Charlotte's Premiere Ground Transportation Provider
Town Cars, Luxury Sedans, Premium SUVs, Lincoln Limo Charlotte, Hummer Limo Charlotte, Mercedes Sprinter Van & Limo Charlotte, Party Busses, Mini Busses and Motor Coach Busses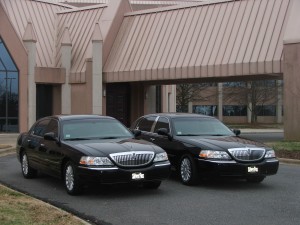 4 Passenger Black Lincoln Towncar
Seats 4 Passengers. Need 1 or 50 Town Cars for your next corporate transportation event or just going out for the night. SilverFox has just the right town car for your needs. We are available 24/7 and are always ready to get you from point A to B on time in a clean vehicle and sharp driver that knows how to get you where you want to go. Most of our fleet is equipped with on-board navigation and on-star or the drivers have their own up to date GPS units to insure you we get you where you need to be without interrupting the passengers in the vehicle. All SilverFox drivers are trained on proper friendly professional driver protocols and to respect the privacy of all passengers with a rule of "speak only when spoken to". Click here for more info.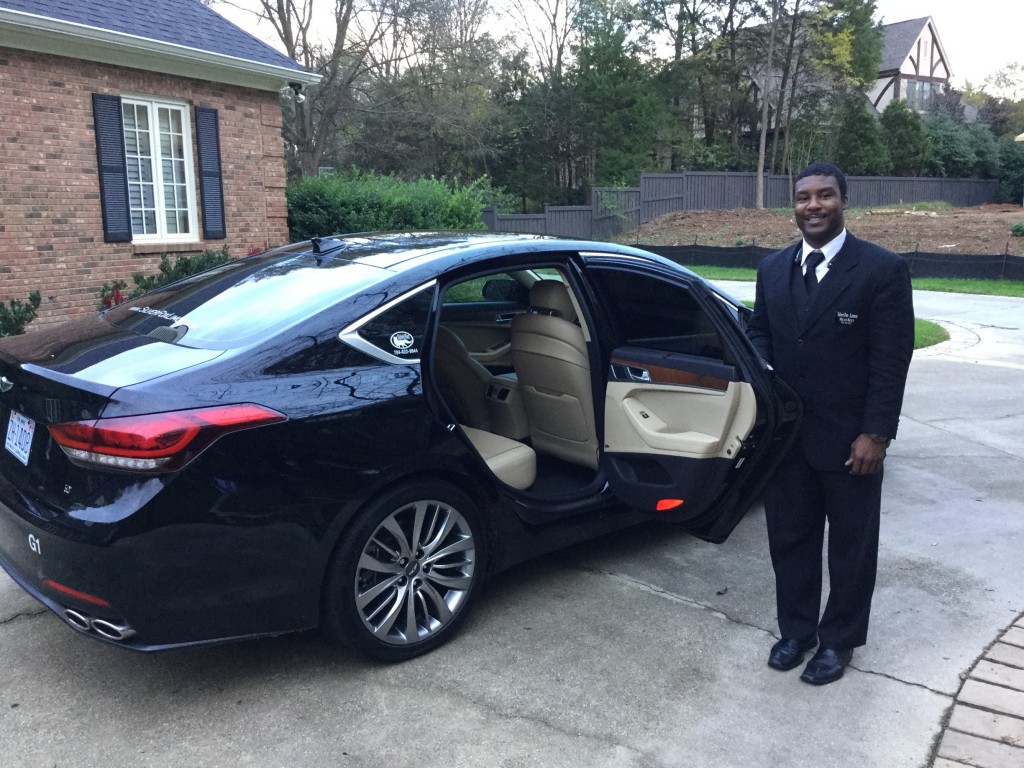 4 Passenger 2015 Genesis Signature 5.0
Seats 4 Passengers. Equipped with a Lexicon 17-speaker Discrete Logic 7 surround audio system to play all your favorite music via your Bluetooth device or from any of your favorite AM/FM/SiriusXM/CD/MP3/HD Radio devices. ( boy that's a mouth full). The Built in HD navigation system with a 9.2-inch LCD screen will make sure your driver gets you where you need to go and on time. Click here for more info.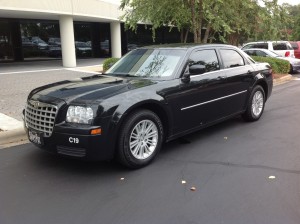 4 Passenger Chrysler 300
Seats 4 Passengers. The perfect alternative to the Executive Lincoln Towncar. The Chrysler 300′s interior features a simple but elegant and sophisticated layout including plush tan leather seating with maximum leg room, AM/FM radio with CD player and auxiliary audio jack, Electronic Stability Program (ESP), remote key-less entry, leather trimmed seats, and SIRIUS satellite radio. In addition to the sleek black exterior you will find 17-inch aluminium wheels and 5% tinted windows for your privacy. Click here for more info.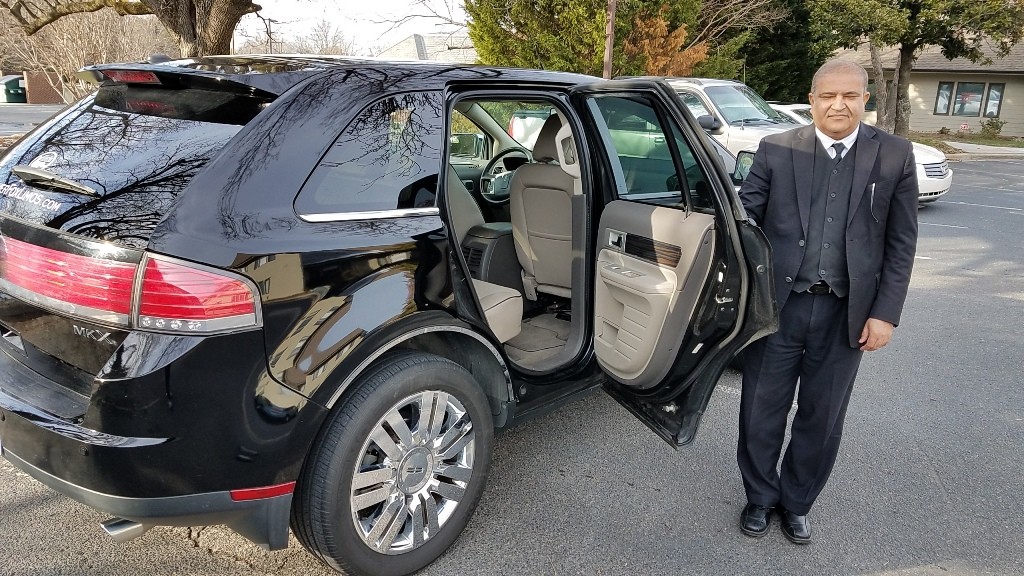 4 Passenger Lincoln MKX
The spacious Lincoln MKX is a beautiful crossover for groups of 3 or 4 traveling with luggage or golf clubs but need more space than a sedan without having to pay the cost of the larger suv's.  this crossover has plenty of leg and head room like the suv's but a smoother ride like a sedan. The rear seats have a drop down arm rest/beverage holder, rear vent controls and of course the dark tinted windows for privacy.  Your driver will put on your favorite music station to listen to music on the premium sound system.  Click here for more info.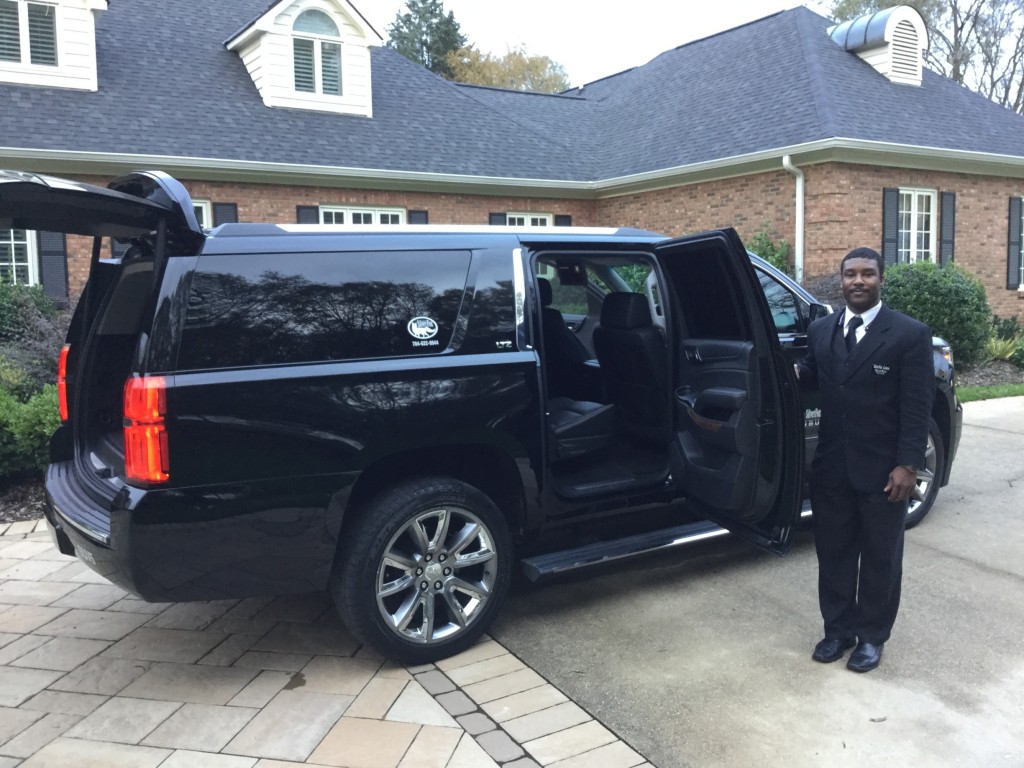 6 Passenger 2015 Chevy Suburban LTZ
Seats 6 Passengers. This 2015 Chevy Suburban LTZ is the latest in the Corporate transportation, and is ready for top executives, celebrities and high profile clients traveling in and out of Charlotte for sporting, entertainment and business events. It's the only one of it's kind in the Charlotte Market. The LTZ is fully loaded with 4 heated/cooled captain chairs and one bench seat in the rear for three adults comfortably. Equipped with an amazing bose sound system. CD/DVD/XM/AM/FM Player, Bluetooth radio with voice controls, Ipod Jack, On Star, touch screen GPS navigation system, USB, 12volt and 110 power plug ins. black leather seats and carpeting, celebrity tinted windows and climate/audio/video controls in the middle and rear seats. The Storage space in the rear provides plenty of room for luggage and personal items. Click here for more info.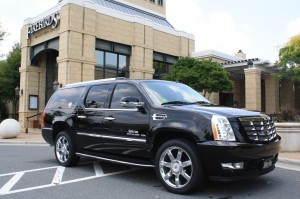 6 Passenger Cadillac Escalade ESV
Seats 6 Passengers. If you want the ultimate in a luxury SUV, this is the vehicle for you. Fully loaded with (3) DVD screens, Bose Premium sound system, XM Radio and iPod jacks if you prefer to bring your own music on your iPod or smart phone. The Escalade is fully loaded from its baby soft leather interior and wood-grain trim to the blacked out windows, 7 level chrome trimmed exterior that includes beautiful 22" chrome wheels, this is the vehicle to arrive in when you are wanting the ultimate in a Luxury SUV for your special evening or event.  Ideal for VIP clients and celebrities as well as those special occasions.  Click here for more info.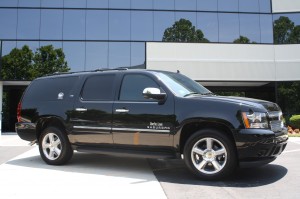 6 Passenger Chevrolet Suburban
Seats 6 Passengers. If you want the best and newest vehicle for corporate transportation, this is the vehicle for you. Fully loaded with (3) DVD screens, Bose Premium sound system, XM Radio and iPod jacks if you prefer to bring your own music on your iPod or smart phone. The Suburban is the ultimate corporate vehicle for top executives in any industry. From its baby soft leather interior and wood grain trim to the black out windows, full chrome trimmed exterior that includes beautiful 20" alloy wheels, this is the vehicle to arrive in when you are wanting the ultimate in a Corporate luxury SUV. Click here for more info.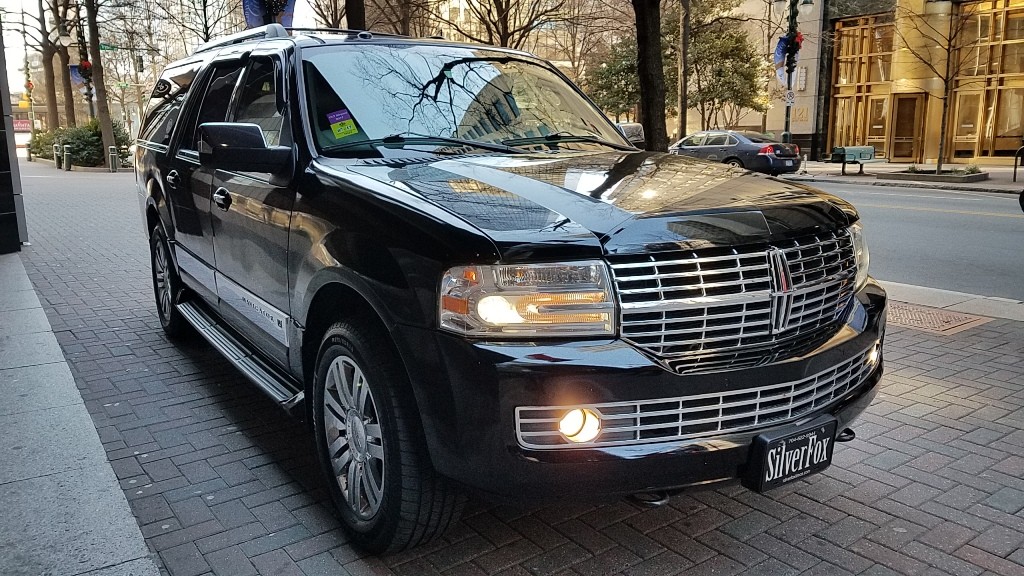 6 Passenger Lincoln Navigator 
Seats 6 Passengers.  The Black Lincoln Navigator L is offers the luxury and efficiency to the business and corporate traveler.  The Lincoln Navigator seats up to 6 passengers making it the ideal vehicle for your business trip, night on the town, or wherever your destination may be.  Experience the true comfort the Lincoln Navigator L has to offer with spacious leather seating and extended leg room.  This vehicle is the perfect choice for those passengers looking for luxury and comfort.  The Lincoln Navigator offers a premium sound system, navigation, amply rear cargo storage and also complimentary bottle waters. Click here for more info.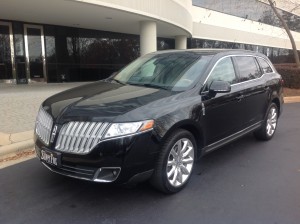 6 Passenger Lincoln MKT Town Car
Seats 6 Passengers. The Lincoln MKT is a large crossover vehicle that seats up to six passengers. New to the Lincoln lineup, it offers unparalleled luxury. Other comfort and convenience features ladled on the MKT include a large, standard, fixed-panel sunroof; dual-zone climate control; the Bluetooth-and-voice-controlled SYNC system. We all know that accidents happen, but Lincoln is doing its best to help chauffeurs prevent them.  Without a doubt, one of the most notable areas of improvement is the vehicle's numerous safety features.    The lane departure warning and blind-spot detection systems aid safety on the roads, while the Cross-Traffic Alert system is perfect for traffic detection in parking lots and at intersections.  The MKT is also equipped with a rear-view camera that alerts the chauffeur to unforeseen objects when reversing.  As we say goodbye to the Town Car Sedan that has served thousands of executives across the country, the Lincoln MKT Town Car promises to be a significant improvement for both chauffeurs and passengers. Click here for more info.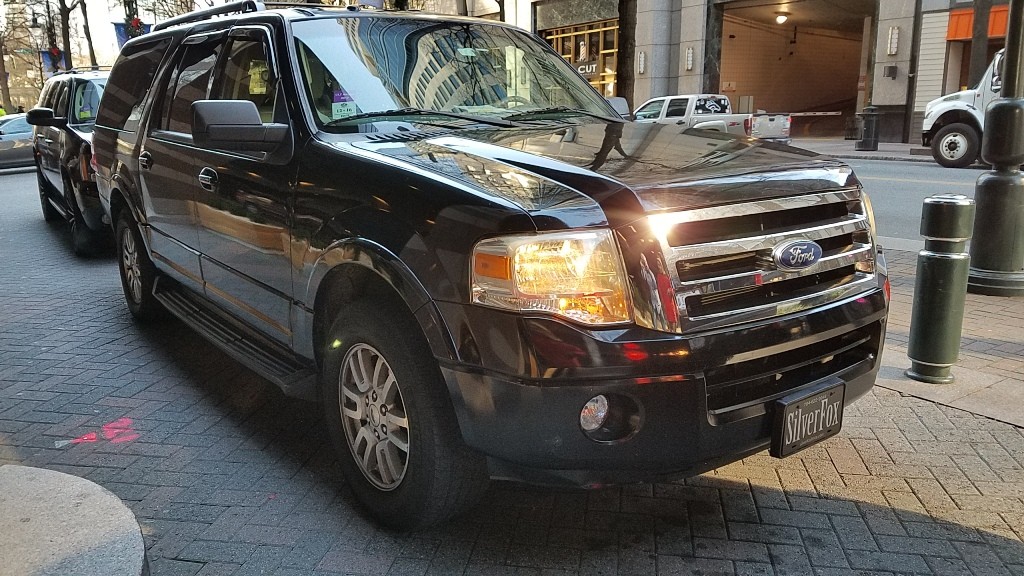 7 Passenger Ford Expedition
Seats 7 Passengers. The Ford Expedition has interior that's remarkable for its ample space and cargo versatility making it a favorite among clients in need of a vehicle with spacious interior and plenty of cargo room.  This fully equipped Ford Expedition comes complete with leather interior, premium sound system, CD Player/AM/FM Radio and 3rd row seating. Click here for more info.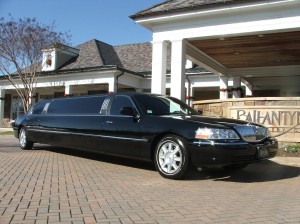 8-10 Passenger Lincoln Limo
Seats 8 Adults – 10 Children. Black leather interior. (1) 15″ flat screen and (1) 7″ flat screen with DVD player and 6 speaker surround sound, CD player with AM/FM Stereo with on screen display. 4 color fiber optic track lightning, mirrored ceiling and bar with colored twinkle lights. Mirrored Bar has 12 Champagne glasses and 14 rock glasses, 2 large built in coolers. This is the prettiest limousine in Charlotte. Accented with Blue and White napkins in the glasses or other colors per your request. Click here for more info.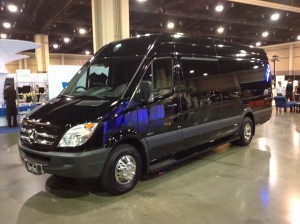 10-12 Passenger 2013 Mercedes Party Bus
Seats 10 Adults – 12 Children.  This Mercedes Party Bus Charlotte comes fully equipped with all of the bells and whistles including: Bluetooth sound system with Dolby surround sound, DVD/CD/AM/FM player, Beautiful colored and back lit bar with champagne and rocks glasses, Touch screen technology, 3 built in coolers, USB and 110 plugs for charging, Latest Multi colored fiber optic lighting in the limo industry in the ceiling and bars, 2 laser light machines, 4 screens; 46″,32″,19″ and 7″, High grade leather wrap around seating in double j style, & Draw up shades for complete privacy from onlookers outside or your favorite chauffeur. SilverFox Limos takes pride in being a pioneer in the ground chauffeured transportation industry and proud to add this unique vehicle to our fleet. Click here for more info.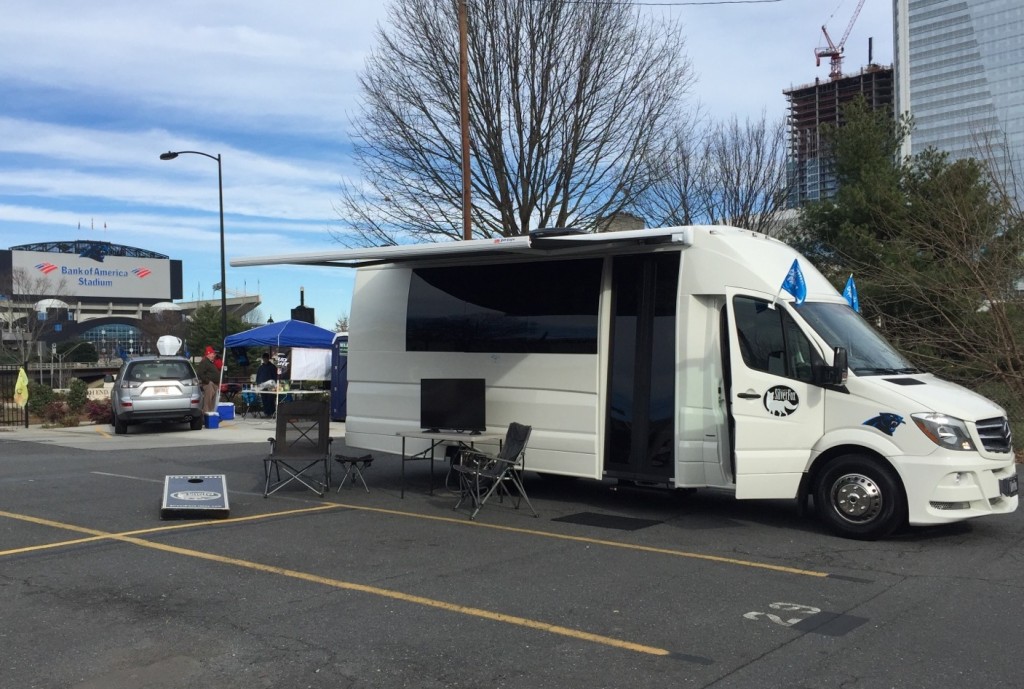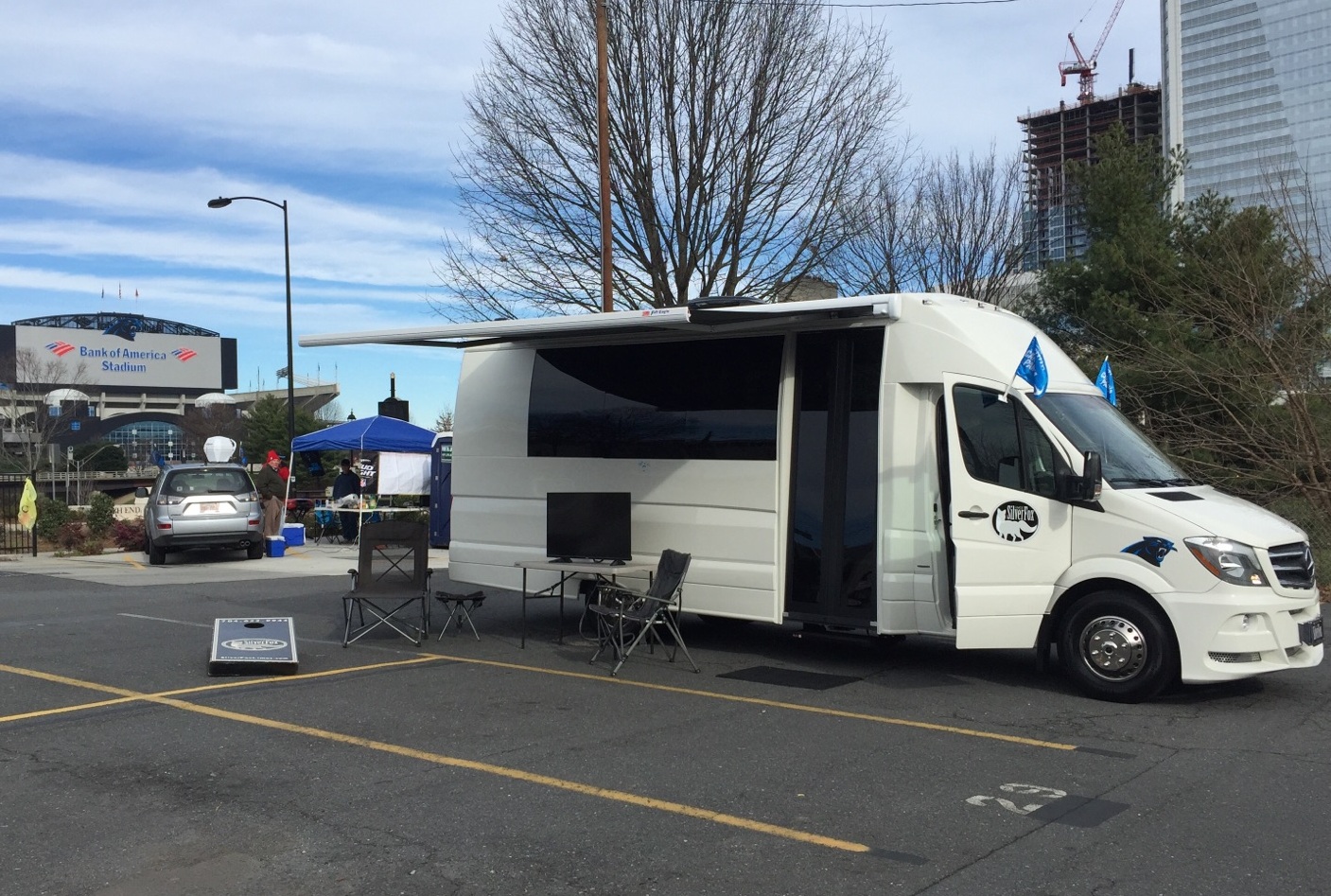 12-15 Passenger 2016 Mercedes Party Bus
Seats 12 Adults – 15 Children. This 2016 Sprinter Party Bus is the ultimate in the limousine industry. perfect for any type of event and especially for tailgating. It has an 8′ x 12′ automatic roll out awning, Bluetooth sound system. Satellite TV with Direct TV and the NFL package, Apple TV to watch stations like Netflix, Hulu and Vevo as well as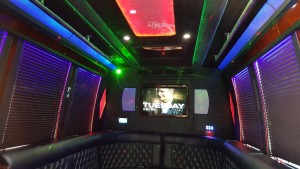 listen to Music via the bluetooth sound system or from your own music device wirelessly.  The Built in Wifi allows you to connect up to 12 devices at once.  You can log into your account or use ours.  It also has local Antenna for regional games which allows you to watch 2 games at the same time while on the road or tailgating. You also have the option of 2 screens inside the truck as well as 1 on the outside of the vehicle. We provide the TV and table, corn hole boards and bags.    The LED lighting in this vehicle is off the charts with over 35 light shows to choose from. Built in coolers and bars just round this vehicle off as the ultimate experience in the limousine and party bus industry. come see it for yourself. Available for 1/2 and full day rentals only. please call for any special request outside these parameters.  There is no other vehicle like this in the area!!! Click here for more info.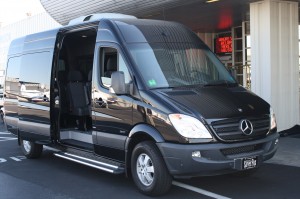 14 Passenger Mercedes Sprinter Van
Seats 14 Passengers. The Mercedes Sprinter is the talk of the industry Nationwide and perfect for corporate groups that can't ride in a limo and don't want a 14-25 passenger mini bus. The sprinter offers a spacious interior with 6′ 4″ of head room, luxury high back, contoured seats, all with head rest and shoulder strap seat belts, and plenty of leg room when you sit down as well as for your luggage in the rear for your group. The dark tinted windows keeps the interior cool and provides the ultimate desired privacy for our VIP and Celebrity clients. SilverFox is proud to be the first to bring this vehicle to Charlotte for commercial use and 14 passenger capacity. Please book early, as this vehicle will be in high demand. Click here for more info.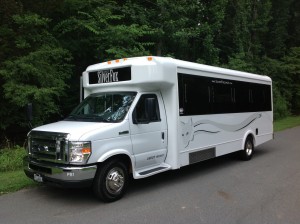 20-24 Passenger 2013 LGE Party Bus
Seats 20 Adults – 20 Children. We are taking the Party Bus Charlotte industry to another level with this vehicle. Our Party Bus Charlotte is the vision and has been designed by the SilverFox himself, James Weymann. After traveling to multiple cities and states around the country he hand picked every aspect of our Party Bus. This 20-24 passenger Party bus with (party and corporate lighting effects) is like nothing you've ever seen. Built in June of 2013, it is loaded with the latest technology, lighting, sound and music system of any party even in Charlotte. It is the newest Party bus in Charlotte, NC and not to be compared with anything else. Custom built by the finest designers at LGE Coachworks in Erie PA just for SilverFox. Click here for more info.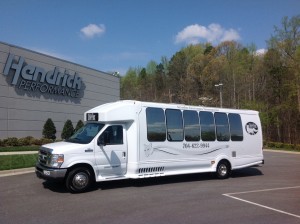 24 Passenger Luxury Mini Bus
Seats 24 Passenger plus luggage. This 2014 Luxury Mini Bus made by turtle top is the latest in the transportation industry for luxury Corporate and social transportation for groups up to 24 passengers + luggage or golf clubs. As you get in you will notice the cherry hardwood floors and beautiful ambient lighting. The seat as well as all the walls and ceiling are made of the best leather for luxury mini buses. The beautiful blue mood lights will illuminate once the doors are closed so that you can mingle with the passengers on board at night and have a nice relaxing mood. Want to listen to your favorite music via your Bluetooth music device? No problem, this stereo with 8 speakers is equipped to handle it. The rear of the bus has a LED lit cargo area for all your luggage, golf bags, or tailgating items. Click here for more info.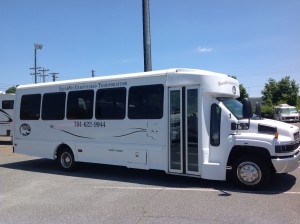 29 Passenger Mini Bus
Seats 29 Passenger plus luggage. With dedicated rear luggage plus overhead storage! This vehicle comes well equipped with all of the bells and whistles including, entry grab rails, Sony CD player/DVD, dash AC, Freedman high back cloth seats, seatbelts, rear TransAir AC unit, rear door, rear dome lighting, Jensen TV, rear speakers, emergency equipment, and much more. Click here for more info.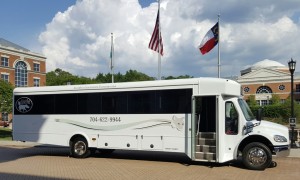 35 Passenger Luxury Mini Bus
Seats 35 Passenger plus luggage. This 2016 Luxury Mini Bus & Driver is the ultimate in Ground Transportation for comfort and luxury.  This bus has a lot, so here we go: 35 Level 4 seats, Sirius / XM Radio, AM/FM/DVD/PA input with (7) speakers (6) ASA, 15″ Wedge Mount Monitors and (1) ASA 22″ LED flat screen in front.  (15) USB Dual Chargers Sockets on back of seats, Overhead luggage racks, upgrade LED reading lights, 30 17.5″ high back double recliner seats with Lap belts + 5 non reclining last row. All seats have map pockets. the windows are Full glossy black out for ultimate protection from the outside heat.  black vinyl ceiling and side walls and Tarabus custom vinyl wood flooring.  Click here for more info.