(Office) 704-622-9944   (Fax) 704-817-8999
Office hours Monday – Friday 8:00am – 11:00pm, Saturday 12:00pm – 6:00pm,
Sunday 1:00pm – 6:00pm
Reservations & Dispatch available by phone 24/7
Book Online 24/7 & Get 5% Discount – Click on Reservations Page



Charlotte's Premiere Luxury Ground Transportation Provider
Town Cars, Luxury Sedans, Premium SUVs, Lincoln Limo Charlotte, Hummer Limo Charlotte, Mercedes Sprinter Van & Limo Charlotte, Party Busses, Mini Busses and Motor Coach Busses
SilverFox Limos is to be the Exclusive Transportation Provider of…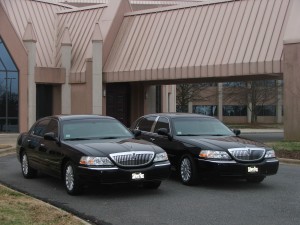 4 Passenger Black Lincoln Towncar
Seats 4 Passengers. Need 1 or 50 Town Cars for your next corporate transportation event or just going out for the night. SilverFox has just the right town car for your needs. We are available 24/7 and are always ready to get you from point A to B on time in a clean vehicle and sharp driver that knows how to get you where you want to go. Most of our fleet is equipped with on-board navigation and on-star or the drivers have their own up to date GPS units to insure you we get you where you need to be without interrupting the passengers in the vehicle. All SilverFox drivers are trained on proper friendly professional driver protocols and to respect the privacy of all passengers with a rule of "speak only when spoken to". Click here for more info.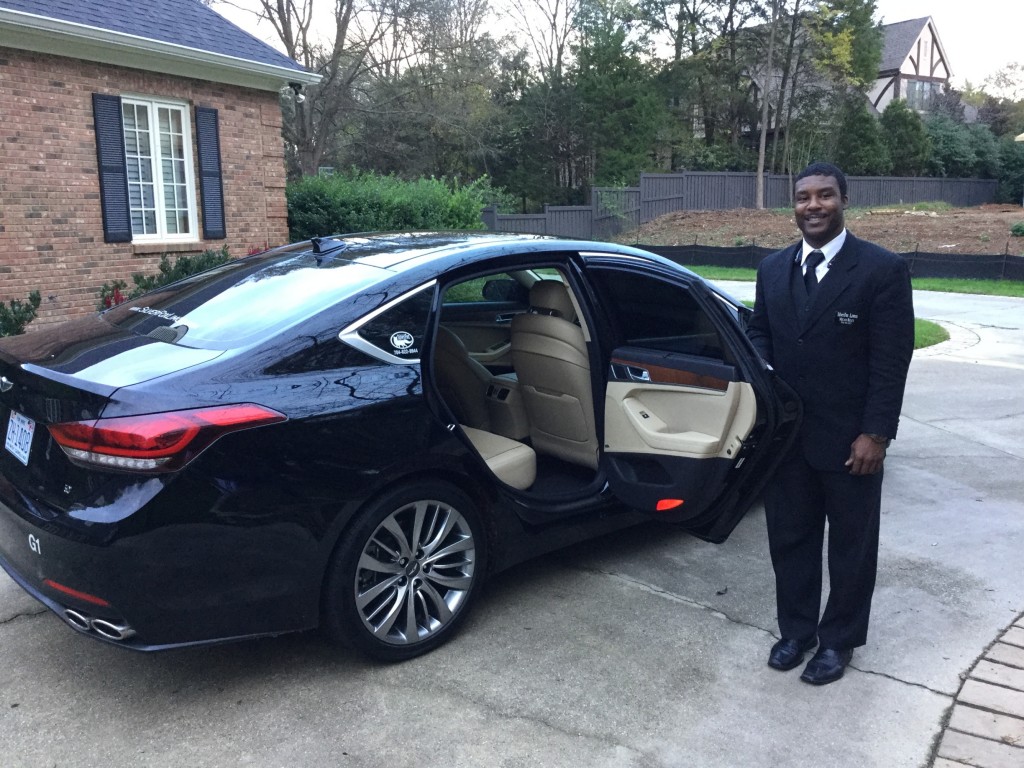 4 Passenger 2015 Genesis Signature 5.0
Seats 4 Passengers. Equipped with a Lexicon 17-speaker Discrete Logic 7 surround audio system to play all your favorite music via your Bluetooth device or from any of your favorite AM/FM/SiriusXM/CD/MP3/HD Radio devices. ( boy that's a mouth full). The Built in HD navigation system with a 9.2-inch LCD screen will make sure your driver gets you where you need to go and on time. Click here for more info.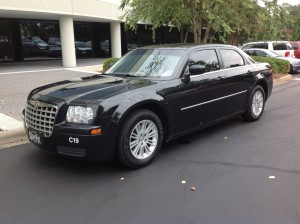 4 Passenger Chrysler 300
Seats 4 Passengers. The perfect alternative to the Executive Lincoln Towncar. The Chrysler 300′s interior features a simple but elegant and sophisticated layout including plush tan leather seating with maximum leg room, AM/FM radio with CD player and auxiliary audio jack, Electronic Stability Program (ESP), remote key-less entry, leather trimmed seats, and SIRIUS satellite radio. In addition to the sleek black exterior you will find 17-inch aluminium wheels and 5% tinted windows for your privacy. Click here for more info.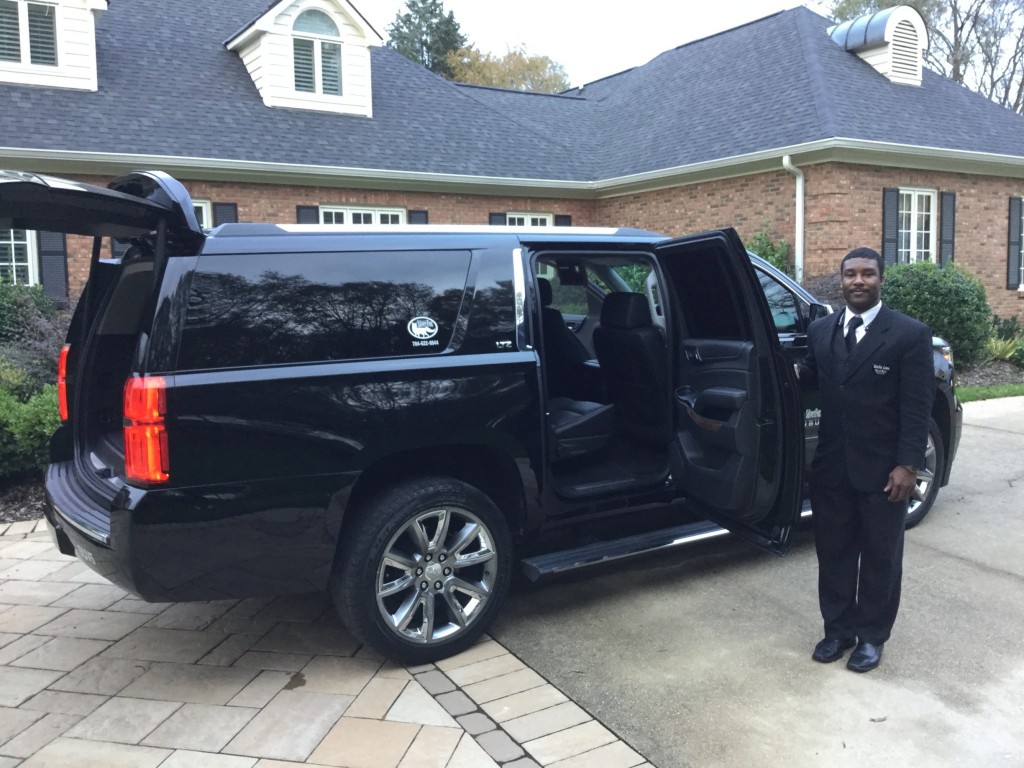 6 Passenger 2015 Chevy Suburban LTZ
Seats 6 Passengers. This 2015 Chevy Suburban LTZ is the latest in the Corporate transportation, and is ready for top executives, celebrities and high profile clients traveling in and out of Charlotte for sporting, entertainment and business events. It's the only one of it's kind in the Charlotte Market. The LTZ is fully loaded with 4 heated/cooled captain chairs and one bench seat in the rear for three adults comfortably. Equipped with an amazing bose sound system. CD/DVD/XM/AM/FM Player, Bluetooth radio with voice controls, Ipod Jack, On Star, touch screen GPS navigation system, USB, 12volt and 110 power plug ins. black leather seats and carpeting, celebrity tinted windows and climate/audio/video controls in the middle and rear seats. The Storage space in the rear provides plenty of room for luggage and personal items. Click here for more info.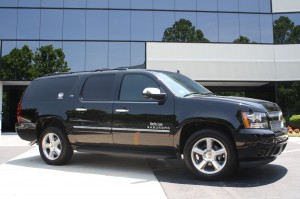 6 Passenger Chevrolet Suburban
Seats 6 Passengers. If you want the best and newest vehicle for corporate transportation, this is the vehicle for you. Fully loaded with (3) DVD screens, Bose Premium sound system, XM Radio and iPod jacks if you prefer to bring your own music on your iPod or smart phone. The Suburban is the ultimate corporate vehicle for top executives in any industry. From its baby soft leather interior and wood grain trim to the black out windows, full chrome trimmed exterior that includes beautiful 20" alloy wheels, this is the vehicle to arrive in when you are wanting the ultimate in a Corporate luxury SUV. Click here for more info.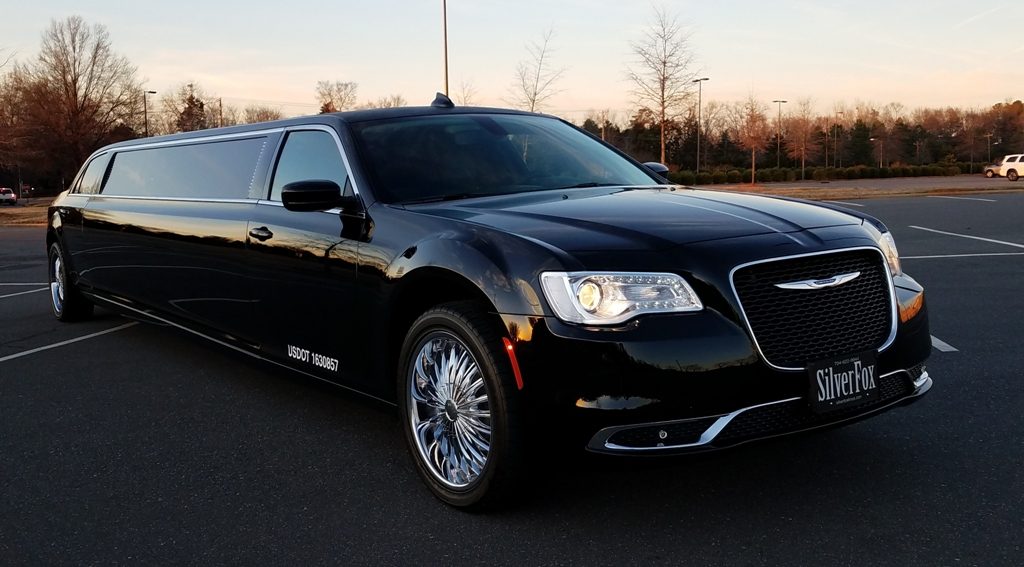 10 Passenger 2017 Chrysler 300 Limo
This beautifully crafted 10 Passenger 2017 Chrysler 300 Limo is the latest in the industry and has all the upgrades. This machine is built to have fun and create a night to remember. The 3 seat configuration allows up to 10 passengers or 3 to 4 couples to relax and enjoy all the amenities of the new stretch. See the list below for all options but just be ready to party or have a nice sexy ride with your significant other or friends. Easy to control functions in the back gives the passengers ease of use and to change options as they so desire. The Bluetooth radio makes it easy to listen to your favorite music right from your device and don't worry, we have charging ports all over the vehicle and one large tray above the bar to keep up to six phones securely in place and charging at the same time.  Click here for more info.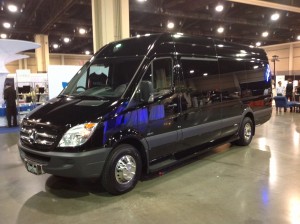 12 Passenger 2013 Mercedes Party Bus
Seats 10 Adults – 12 Children.  This Mercedes Party Bus Charlotte comes fully equipped with all of the bells and whistles including: Bluetooth sound system with Dolby surround sound, DVD/CD/AM/FM player, Beautiful colored and back lit bar with champagne and rocks glasses, Touch screen technology, 3 built in coolers, USB and 110 plugs for charging, Latest Multi colored fiber optic lighting in the limo industry in the ceiling and bars, 2 laser light machines, 4 screens; 46″,32″,19″ and 7″, High grade leather wrap around seating in double j style, & Draw up shades for complete privacy from onlookers outside or your favorite chauffeur. SilverFox Limos takes pride in being a pioneer in the ground chauffeured transportation industry and proud to add this unique vehicle to our fleet. Click here for more info.
15 Passenger 2015 Sprinter Limo XL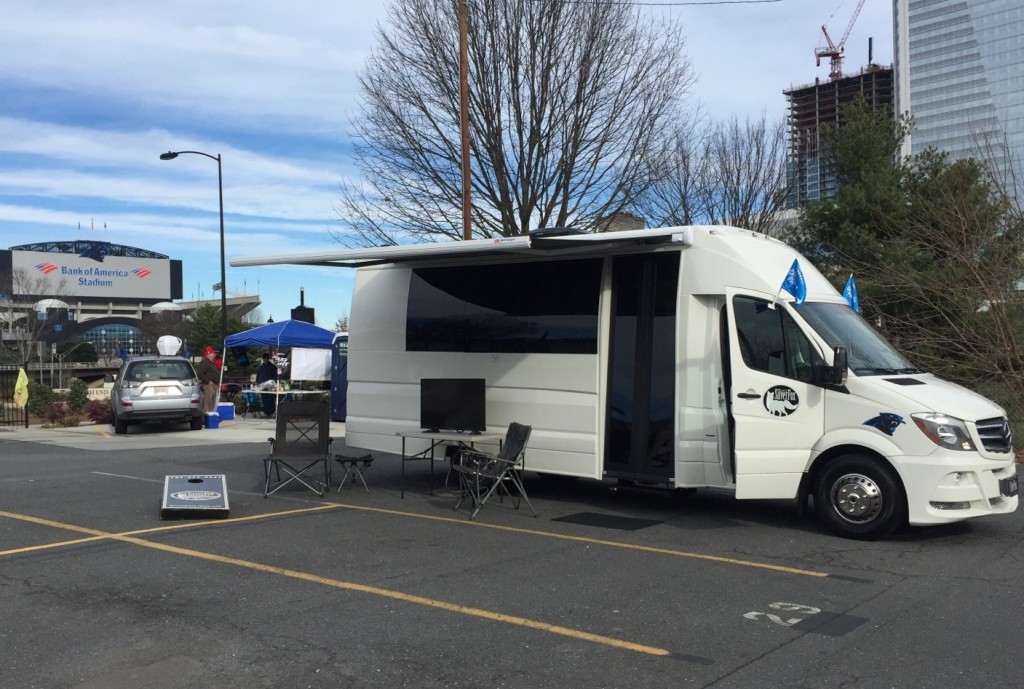 This 2015 Sprinter limo party bus that seats up to 12 Adults or 15 Children, is the ultimate in the limousine industry. perfect for any type of event and especially for tailgating. It has an 8′ x 12′ automatic roll out awning, Bluetooth sound system. Satellite TV with Direct TV and the NFL package, Apple TV to watch stations like Netflix, Hulu and Vevo as well as listen to Music via the bluetooth sound system or from your own music device wirelessly.  The Built in Wifi allows you to connect up to 12 devices at once.  You can log into your account or use ours.  It also has local Antenna for regional games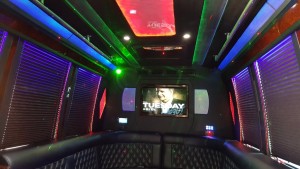 which allows you to watch 2 games at the same time while on the road or tailgating. You also have the option of 2 screens inside the truck as well as 1 on the outside of the vehicle. We provide the TV and table, corn hole boards and bags.    The LED lighting in this vehicle is off the charts with over 35 light shows to choose from. Built in coolers and bars just round this vehicle off as the ultimate experience in the limousine and party bus industry. come see it for yourself. Available for 1/2 and full day rentals only. please call for any special request outside these parameters.  There is no other vehicle like this in the area!!! Click here for more info.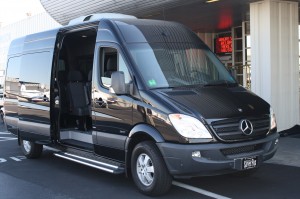 14 Passenger Mercedes Sprinter Van
Seats 14 Passengers. The Mercedes Sprinter is the talk of the industry Nationwide and perfect for corporate groups that can't ride in a limo and don't want a 14-25 passenger mini bus. The sprinter offers a spacious interior with 6′ 4″ of head room, luxury high back, contoured seats, all with head rest and shoulder strap seat belts, and plenty of leg room when you sit down as well as for your luggage in the rear for your group. The dark tinted windows keeps the interior cool and provides the ultimate desired privacy for our VIP and Celebrity clients. SilverFox is proud to be the first to bring this vehicle to Charlotte for commercial use and 14 passenger capacity. Please book early, as this vehicle will be in high demand. Click here for more info.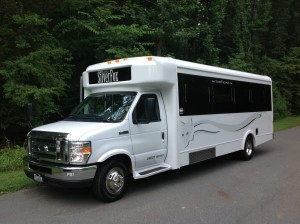 24 Passenger 2013 LGE Party Bus
Seats 20 Adults – 20 Children. We are taking the Party Bus Charlotte industry to another level with this vehicle. Our Party Bus Charlotte is the vision and has been designed by the SilverFox himself, James Weymann. After traveling to multiple cities and states around the country he hand picked every aspect of our Party Bus. This 20-24 passenger Party bus with (party and corporate lighting effects) is like nothing you've ever seen. Built in June of 2013, it is loaded with the latest technology, lighting, sound and music system of any party even in Charlotte. It is the newest Party bus in Charlotte, NC and not to be compared with anything else. Custom built by the finest designers at LGE Coachworks in Erie PA just for SilverFox. Click here for more info.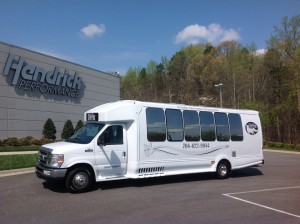 24 Passenger Luxury Mini Bus
Seats 24 Passenger plus luggage. This 2014 Luxury Mini Bus made by turtle top is the latest in the transportation industry for luxury Corporate and social transportation for groups up to 24 passengers + luggage or golf clubs. As you get in you will notice the cherry hardwood floors and beautiful ambient lighting. The seat as well as all the walls and ceiling are made of the best leather for luxury mini buses. The beautiful blue mood lights will illuminate once the doors are closed so that you can mingle with the passengers on board at night and have a nice relaxing mood. Want to listen to your favorite music via your Bluetooth music device? No problem, this stereo with 8 speakers is equipped to handle it. The rear of the bus has a LED lit cargo area for all your luggage, golf bags, or tailgating items. Click here for more info.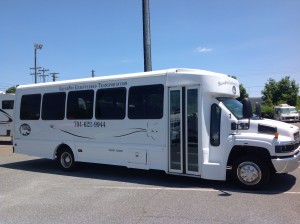 29 Passenger Mini Bus
Seats 29 Passenger plus luggage. With dedicated rear luggage plus overhead storage! This vehicle comes well equipped with all of the bells and whistles including, entry grab rails, Sony CD player/DVD, dash AC, Freedman high back cloth seats, seatbelts, rear TransAir AC unit, rear door, rear dome lighting, Jensen TV, rear speakers, emergency equipment, and much more. Click here for more info.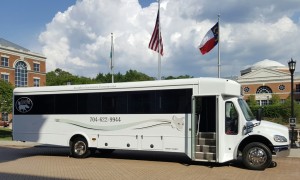 35 Passenger Luxury Mini Bus
Seats 35 Passenger plus luggage. This 2016 Luxury Mini Bus & Driver is the ultimate in Ground Transportation for comfort and luxury.  This bus has a lot, so here we go: 35 Level 4 seats, Sirius / XM Radio, AM/FM/DVD/PA input with (7) speakers (6) ASA, 15″ Wedge Mount Monitors and (1) ASA 22″ LED flat screen in front.  (15) USB Dual Chargers Sockets on back of seats, Overhead luggage racks, upgrade LED reading lights, 30 17.5″ high back double recliner seats with Lap belts + 5 non reclining last row. All seats have map pockets. the windows are Full glossy black out for ultimate protection from the outside heat.  black vinyl ceiling and side walls and Tarabus custom vinyl wood flooring.  Click here for more info.  
We Have Limo Charlotte for All of Your Transportation Needs
This is the most special day of your life and at SilverFox Limos we are going to make sure everything goes perfectly with your transportation. All our Limousine drivers will be dressed in black suits, white shirts and bow tie just for the occasion – whether bus, Town Car Limo Charlotte NC, SUV Limo Charlotte NC or Party Bus Charlotte. We will even have a red carpet rolled out for the Bride whenever she enters or exit's the vehicle. Waters are provided in the limo upon request for your guests to keep their thirst quenched during the hot summer days. We have the perfect wedding limos and executive limos for any occasion. Bachelor or Bachelorette party limos we have them.
Select any of our Limos for your Birthday Party or Quinceañera!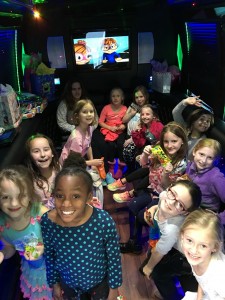 SilverFox Limos purchases only the finest limos for Birthday parties. All our Charlotte NC limos are equipped with color fiber optic twinkle lighting in the ceiling and behind the bar and well as fiber optic color tubes that go along the bar and ceiling edges. Rent one of the Hummers and get the added Laser light and strobe effects to really make the party fun. Now all you have to do is crank up the premium sound systems and let the party begin. We also have a $100 birthday decor package that adds colored helium balloons, a birthday banner inside the limo including sodas and water for mixing or drinking (shown in the picture above).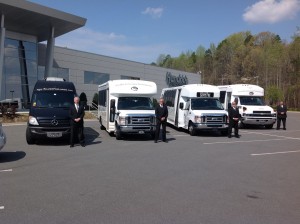 Small to Large Group Ground Transportation – Local and Out of Town – Airport Transportation to and from hotel or venue.
SilverFox Chauffeured Transportation has the most complete fleet of vehicles for any of your corporate needs and events. Whether Town car limos, SUV limos, or Mini Busses, we have it all! From the moment your guest or Executive meets our professionally dressed, courteous limo chauffeurs at the airport to the time we drop them off at their destination, you can be assured they will get the best treatment and be impressed with our service. We understand the executives' needs and will respect those special needs at all times. SilverFox Limos has been voted 2007 & 2010 Limo Charlotte NC Company of the Year by the readers of Elevate Magazine.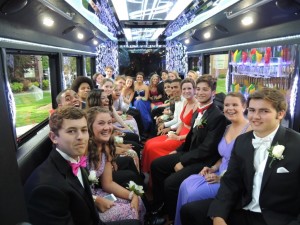 Prom Limo Transportation Charlotte, NC
This night promises to be a night to remember always. This is the first of many special events in your life. We also know that this event can also be a very stressful one between the girls finding that perfect dress, guys renting your tux, booking your dinner reservations, and everything else that comes along with this night. Let SilverFox Limos handle all of your prom transportation needs and enjoy it in style in one of our beautiful vehicles.

If you are traveling anywhere in the US, let SilverFox Limos in Charlotte, NC handle your transportation needs with one of our pre-qualified affiliates in over 600 cities nationwide. All reservations are transferred electronically to eliminate errors through our Limo Anywhere software. SilverFox Limos is Charlotte's premier luxury provider for Corporate, Individual, Group, and Leisure ground transportation. SilverFox Limo is also the Corporate Partner of the Charlotte Regional Visitors Authority (CRVA) and Corporate Partner of the Charlotte Regional Partnership (CRP).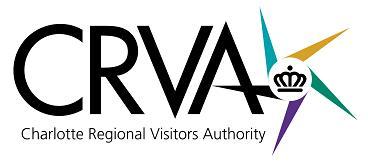 Our reliable top of the line fleet and "A" list chauffeurs, along with our competitive rates make us the most requested chauffeured transportation company in Charlotte NC for those that want or expect the best there is to offer.  SilverFox Limos is proud to also be the Official Transportation Provider for The Westin Charlotte and Ballantyne Hotel & Lodge.
SilverFox employs only those that have had a minimum of 2 years experience driving limos at another transportation company in Charlotte, NC, lived in Charlotte, NC for a minimum of 10 years and have the PVH permit issued by the Charlotte Mecklenburg Police Department and passed the drug and alcohol testing from the North Carolina Department of Transportation. SilverFox Limos is the transportation provider for Blumenthal Performing Arts. We provide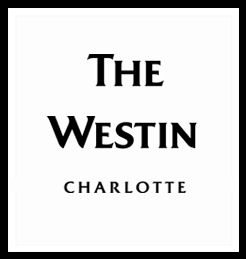 primarily Limousine, Town car, SUV and Mini Bus, Motor Coach and charter services in Charlotte NC including Uptown and the 7 surrounding counties. Our DOT status however allows us to cross state lines as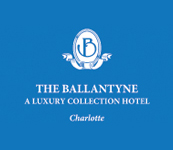 customers needs take us to areas around the country. Our reliable top of the line fleet and Top gun drivers for Charlotte NC limo service, along with our competitive rates make us the top limo company in Charlotte. Our staff is here to assist you and ensure your rental experience, regardless if it's your first time or you are one of our regulars, is memorable. Our trained reservation staff will make sure all your needs are taken care of from start to end and that we address your every need. They are here to take your calls 24 hours a day, 7 days a week! At SilverFox were not about getting from point A to B, were about the experience. When it comes to the impossible, we can handle it, miracles might take a few minutes.
We are proud to say that SilverFox Limos in Charlotte NC is a member of the National Limousine Association.
Whether its for a party night on the town or a fun filled wedding day, we cater to each events needs to make sure everything is just how you like it. Please call for rates! They vary throughout the year. Check our limo Charlotte NC rates online and reserve your Charlotte limousine at 704-622-9944 today. But remember please call us if you are on a budget because we are usually always running specials and offer several corporate discounts and want to make sure you get the best prices available. Thanks so much again for looking through our website and call us anytime we can be of assistance. We weren't awarded the 2009 Service partner of the Year award from the Charlotte Regional Visitors Authority for nothing. For more information on what to do and where to go in Charlotte, check them out at www.charlottesgotalot.com and see all there is to do and see in Charlotte, NC.  SilverFox Limos is a Proud Member of the National Limousine Association

Being Charlotte's premiere ground transportation provider and working hard each and everyday to be the best has been very rewarding. SilverFox Limos was the transportation provider for the "Bachelorette Season 8" TV show filmed in Charlotte, NC. We also offer special discounts and promotions through our social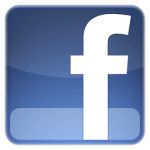 media outlets. Make sure to "LIKE" us on Facebook.com and "FOLLOW" us on Twitter.com. We continue to strive to offer our clients a top notch service every time they book one of our vehicles. See our beautiful fleet below. And don't forget to sign up for our weekly email blast for additional special offers!!
OK, this is the last big hoorah before the big wedding and all your girls and guys are in town for the big event. They've all been waiting for the two of you to make this move and are all ready to go out and celebrate. We have the perfect limos with all the bells and whistles and large sound systems starting from our 8-10 passenger Lincoln to our Party Bus Charlotte. If you are going to the club to celebrate, let SilverFox Limos in Charlotte NC make VIP reservations for you so that you don't have to pay a cover charge, wait in line or deal with all the chaos at the clubs. We'll get you right in and make you feel like a celebrity. Special table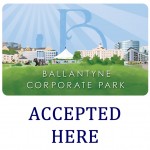 and dinner packages at the clubs can be arranged in advance by your SilverFox Limos staff to make sure you get the best table and servers when you get there and your favorite bottles of liquor will be waiting for you. So get your group tagged, walk in and let the party begin. Our drivers will drop at the front door of the club and be right there waiting for you when you are toasted and ready to go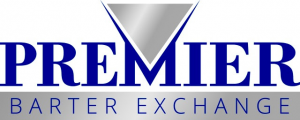 home. We proudly accept Ballantyne Corporate Park discount cards and we are also a member of Premier Barter Exchange.
At SilverFox Limos we know it's not always about being big and loud when you want a limousine. Sometimes you want a nice, smooth, private ride with someone else doing the driving in an around Charlotte, so that you can focus on that special someone. We understand that and will make sure the perfect evening is enjoyed in our beautiful stretch limousines for Anniversary and Special Occasions, Town Car Limos or SUV Limos. Our chauffeurs will give you complete privacy behind the partition and make sure your ride is smooth and comfortable. Let us know in advance if you need flowers, snacks or decorations and we'll take care of it in advance. When you get in, your chauffeur will have the music set, ice in the cooler and all you have to do is provide your favorite beverages. We have plenty of rock, champagne and mixing glasses for you. Sorry we can't provide liquor in NC due to current laws, but beer, wine and champagne is BYOB in all of our limos.
Corporate Partner of the Charlotte Regional Visitors Authority
Corporate Partner of the Charlotte Regional Partnership
Exclusive Transportation Provider for The Ballantyne Hotel & Lodge
Exclusive Transportation Provider for The Westin Charlotte Hotel
Official Transportation Provider for SouthPark Mall
Official Transportation Provider for Charlotte Premium Outlet Mall
Official Transportation Provider for Federal Reserve Bank of Richmond/Charlotte
Top 3 Finalist for Operator of the Year (1-10 Vehicle Category) – LCT Magazine
Transportation Provider for "Bachelorette Season 8" show filmed in Charlotte, NC
2009 Partner of the Year – Services by Visit Charlotte
2007 & 2009 Limousine Company of the Year – Elevate Magazine
SilverFox Limos is proud to support the
American Heart Association's Charlotte Heart Ball
Make-A-Wish Foundation
Charlotte Christian School
St. Jude Children's Research Hospital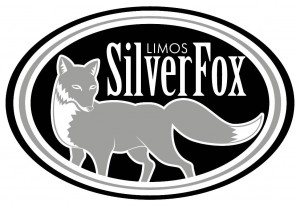 SilverFox Chauffeured Transportation
10722 Carmel Commons Blvd., Suite 420
Charlotte, NC 28226
Office – (704) 622-9944
Fax – (704) 817-8999