It's that time of the year again.  The weather is getting colder, Christmas decorations are going up, and SilverFox Limos is taking you to see the Lights!!
Every year around this time we are fortunate to have some of the best Christmas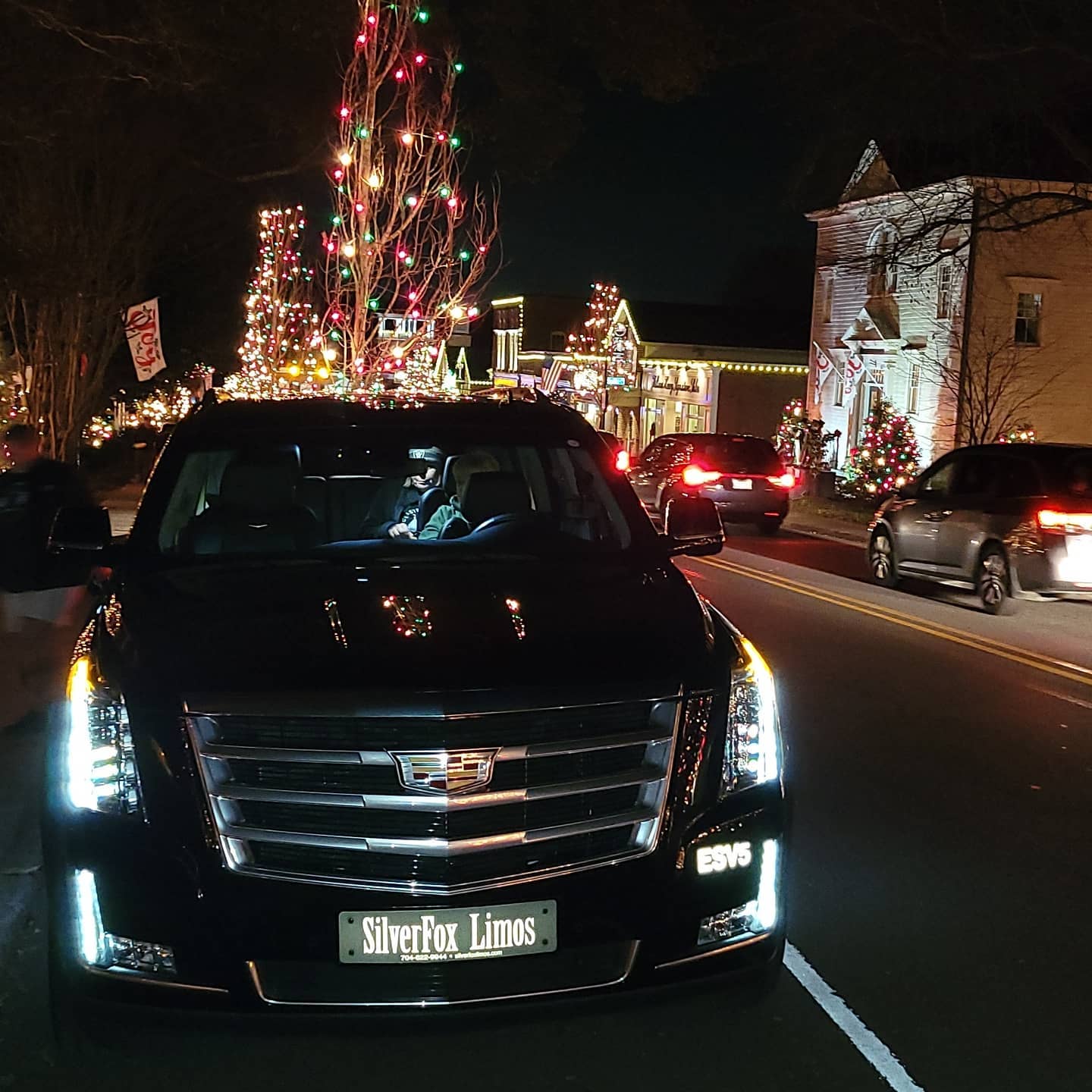 Lights Displays in our area.  These places include the Billy Graham Library, Tanglewood Park, McAdenville, NC, Zootastic Park at Lake Norman, and Carolina Christmas at Charlotte Motor Speedway.  A great way to see the lights is in one of SilverFox Limos beautiful vehicles.   
We are able to accommodate any size group.  This is perfect for families or groups of friends who want to enjoy the Christmas lights around town, but who don't want to have the hassle of driving and parking.  SilverFox Limos give you the opportunity to enjoy the lights with a group instead of having to take multiple vehicles.  All of our chauffeurs are well experienced and know the best routes to take to get you to your destination.  Holiday Lights tours and our Holiday Lights Packages make a great early Christmas gift.
3 Hour Holiday Lights Tour Packages (Sunday-Thursday)
Includes driver gratuity, all taxes and fees
Price does not include any applicable admission to see the lights.  For Tanglewood Park please call for rates
Additional charges may apply for pickups outside of Charlotte city limits

| | |
| --- | --- |
| Basic Sedan |  $                       300.30 |
| 4 Passenger Genesis G90 |  $                       429.00 |
| 5 Passenger Hyundai Palisade |  $                       364.65 |
| 6 Passenger Cadillac Escalade Luxury Edition |  $                        536.25 |
| 7 Passenger Chevy Suburban LT |  $                       429.00 |
| 10 Passenger Chrysler 300 Limo |  $                        536.25 |
| 7-8 Passenger Mercedes CEO Sprinter |  $                       965.25 |
| 10-12 Passenger Luxury Sprinter Limo |  $                      600.60 |
| 13 Passenger Ford Transit Van  |  $                      600.60 |
| 14 Passenger Mercedes Luxury Sprinter Van |  $                       707.85 |
| 12-15 Passenger Sprinter Limo XL |  $                       729.30 |
| 20-24 Passenger Luxury Party Bus |  $                       836.55 |
| 24 Passenger Luxury Mini Bus |  $                        750.75 |
| 28-32 Passenger Mini Bus |  $                         815.10 |
| 35 Passenger Luxury Mini Bus |  $                      900.90 |
| 55 Passenger Motor Coach |  $                     1,201.20 |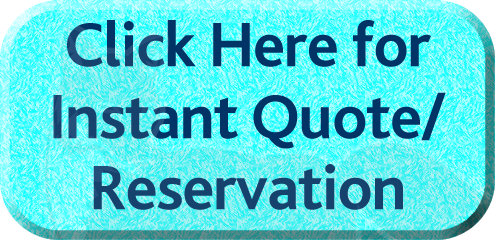 ---
November 29th - December 23rd
Christmas at the Library
Monday – Thursday, 5 p.m. – 9 p.m.*
Friday and Saturday, 5 p.m. – 10 p.m.*
*Christmas activities begin at 5 p.m. Both admission and parking are free.
Closed on Sundays.
Phone: 704-401-3200
Activities
Listed below are the main activities available to help you make the most of your Christmas at the Library visit. In addition to the Christmas-only activities, the Billy Graham Library's ongoing attractions are available for extended hours during Christmas. Hours listed below for special activities are in addition to our normal operating hours. Admission and parking to Christmas at the Library are free.
Live Nativity
See a real life representation of the birth of Jesus, including shepherds, a camel, donkey, lambs, and other animals. This free attraction is located between the Library entrance and the Graham Family Homeplace. Please don't pet or feed the animals during the evening nativity scene.
Live Nativity Hours:
Monday through Thursday, 5 p.m. – 9 p.m.
Friday and Saturday, 5 p.m. – 10 p.m.
Horse-drawn Carriage Rides
Experience the ambiance of Christmas at the Library from a horse-drawn carriage. Purchase tickets in the Library parking lot, then get on board for a 15- to 18-minute ride around the BGEA Headquarters and Library grounds. Each carriage comfortably seats four adults. 
Feel free to bring a blanket to provide extra warmth for your carriage ride. Blankets will also be available for purchase in the Ruth's Attic Bookstore.
Carriage Ride Hours:
Monday through Thursday, 5 p.m. – 9 p.m. (Last ride at 8:45 p.m.)
Friday, 5 p.m. – 10 p.m. (Last ride 9:45 p.m.)
Saturday, 2 p.m. – 10 p.m. (Last ride 9:45 p.m.)
Cost: Adults – $8, Children under 12 – $4; Tickets available for purchase on-site.
Story Time
Bring the little ones to the Billy Graham Library patio for a special time of reading from Christmas books available in Ruth's Attic Bookstore. Kids of all ages are welcome, but this free event is especially recommended for those under age 12. The patio is covered and heated so everyone stays warm.
Story Time Hours:
Story Time will begin every 30-minutes beginning at 5 p.m.
Christmas Dinner
Celebrate the Savior's birth with family and friends over a wonderful Christmas dinner. This traditional holiday meal features turkey and carved ham with maple Dijon glaze, cranberry cornbread stuffing, other savory dishes, and an assortment of festive desserts. Dinner will be served just behind the Library in the BGEA headquarters, with parking available or shuttle bus transportation provided from the Library.
Christmas Dinner Dates:
Dec.3-Dec. 18, Fridays-Saturdays
Time: 5:00 p.m. and 7:00 p.m. each night
Please email LibraryDinners@bgea.org for any questions.
Cost: Adults – $25, Children under 12 – $12; reservations are required.
Christmas Carolers
From "Joy to the World" to "O Holy Night," songs of the season can be heard live each night of Christmas at the Library. This activity includes a variety of performances by different groups.
Due to COVID-19 precautions, this activity will be limited.
The Journey of Faith
The Journey of Faith tour retraces the inspiring journey of Billy Graham, using state-of-the-art exhibits and historical retrospectives. The last tour starts 1.5 hours prior to closing.
Holiday Goodies
Enjoy Mother Graham's pound cake, cinnamon rolls, hot apple cider, and much more.
---
Come join us for our Christmas Wonderland of Lights! 
Zootastic Park's Christmas Wonderland of Lights starts November 18th! Drive through over 4 million lights while listening to Christmas music, and when you're finished be sure to stop inside and meet Santa and his baby kangaroos! We'll have s'mores, hot chocolate, carousel rides, train rides, and so much more! Guaranteed to be a night filled with magic and Christmas joy for the whole family.
*(Santa's Last Night at the light show is December 24th!)
Hours:
Sunday-Thursday: 6 p.m. - 9 p.m.
Friday & Saturday: 6 p.m. - 10 p.m.
*Admission to Zootastic's Christmas Wonderland of Lights is $10 per person, under 2 is free.*
For larger groups we have 2 bus nights available this year, November 30th and December 28th. Buses on those 2 nights will be charged $100. Bus must be no bigger than a standard school bus.
---
Welcome to McAdenville, NC aka Christmas Town USA.  This year marks our 67th year! Over 100 homes are beautifully decorated just for you.  Walking is a great way to see the Christmas lights, the decorated homes and to hear the sounds of the chimes.  
Times are Monday-Sunday from 5:30pm-10:00 pm. From December 1st - December 26th.  Please visit their website information on the Christmas Town USA 20210 season. www.mcadenville-christmastown.com/
---
Saturday, November 18, 2022 -

Sunday, January 8, 2023
One of the Southeast's largest and most-anticipated holiday traditions, Speedway Christmas features four million lights strewn across a remarkable four-mile course, with hundreds of creative displays and lights synchronized to Christmas-themed music. The show is open rain or shine, and features synchronized lights to music on 101.3 FM.
---
Festival of Lights is open nightly, November 11th, 2022 through January 1st, 2023 from 6PM to 11PM, with the exception of Tuesday, December 31, when the show closes at 10PM.
The Gift Shop closes at 11PM Sundays-Thursdays and at 12AM on Fridays and Saturdays, with the exception of December 31st when it closes at 10PM.
Thursdays-Sundays are very popular nights at Festival of Lights. During these nights, long lines and wait times should be expected. Weekends are especially busy and 4 hour wait times should be expected. Also, if visitors are not inside the park gate by 11PM, they may not get into the show before it closes.
Rates
We accept cash or credit cards as payment for entrance to the Festival of Lights. (rates are the same throughout the entire week)
- Family: cars, vans and trucks: $20 cash, $23 credit card
- Commercial: vans, limos and mini-buses: $45 cash, $48 credit card
- Motorcoaches and buses: $115 cash, $118 credit card
Save money by coming on a Discount Night:
- Monday, November 14th
- Monday, November 21st
- Tuesday, November 15th
- Tuesday, November 22nd
Discount Prices:
Family (cars, vans, trucks): $10 cash, $13 credit card
Commercial (vans, limos, mini-buses): $25 cash, $28 credit card
Motorcoaches and buses: $80 cash, $83 credit card
Due to safety concerns, riding through Festival of Lights in the back of a pick-up truck or in/on a trailer that is connected to a vehicle is prohibited.
Click here for more information: https://www.forsyth.cc/Parks/Tanglewood/fol/#home
---
Other Christmas Lights Around Charlotte, NC
Christmas Village at Truist Field - $10 per person.  Expect tens of thousands of lights displayed on Thursday through Sunday from now until Christmas.
Bank of America Stadium - Beautiful Christmas Tree (Corner of S. Mint and W. Stonewall St. )
Intersection of Trade and Tryon - The waterfall at the is lit us with colored Christmas lights
Big Christmas balls in front of the Mint Museum on S. Tryon and Stonewall
NASCAR Hall of Fame - Big Christmas tree and trees lit up with white lights so it looks like a wonderland at the corner of MLK Blvd and S. Brevard.
Hillside Street - between Park Road and Selwyn avenue has a whole street where all the houses have those big balls hanging from the trees and the houses are lit up too.  Probably 2-3 thousand balls.
Santa's House: 7323 Sherwood Forest Drive, Charlotte NC 28226   (off Colony between Carmel Road and Rea) - lights on every night. Santa's out there on Friday - Sunday
The neighborhood right down the street from Santa's house if you turn right on Colony and then right on Stonecroft Park Drive, immediate left on Summerhill Ridge Drive, right on Greenway Bend Drive, there are some beautiful homes with lots of lights.