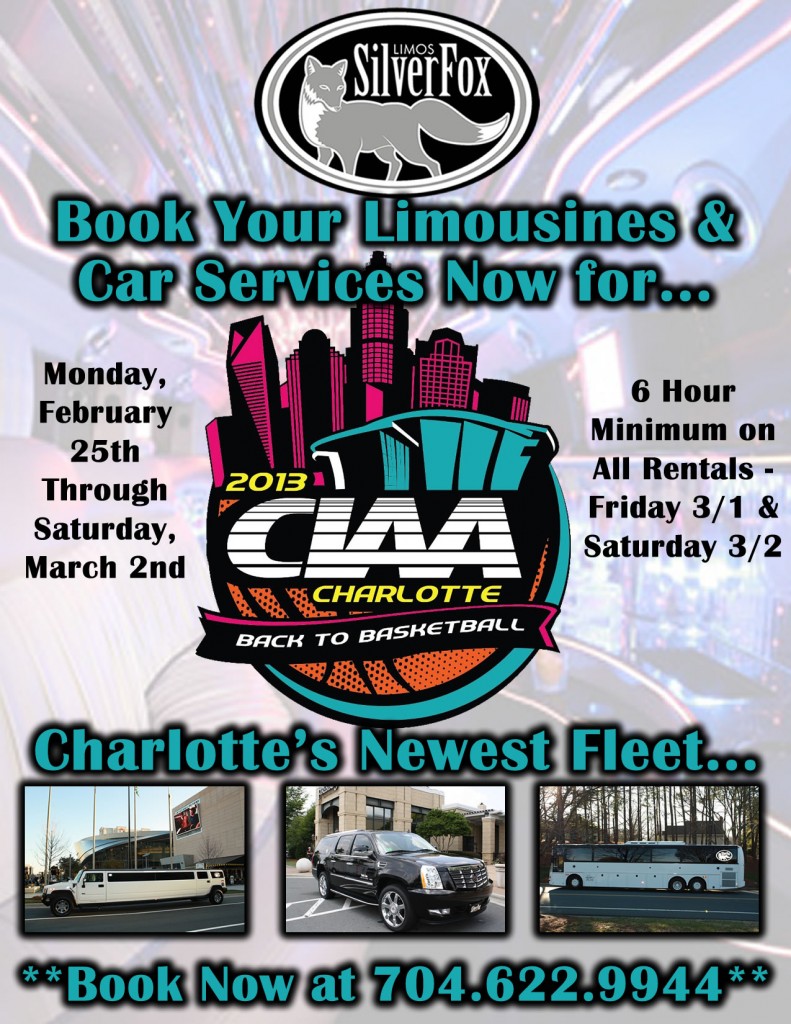 It's that time of year again…CIAA Charlotte 2013.  The week of CIAA begins Monday, February 25th through Sunday, March 3rd.  SilverFox Limos has all of the vehicles to meet your CIAA Transportation needs including Towncars, SUVs, Cadillac Escalade SUV, 8-10 Passenger Lincoln Limos, Hummer Limo, Mercedes Sprinter Limo and Sprinter Van, Mini & Coach Buses.  Call us NOW at 704.622.9944.  Vehicles book up fast!
Click Here for CIAA Charlotte Tournament Schedule of Events
One of the nation's premier sporting events is the annual CIAA Basketball Tournament. Touted as the third most attended basketball tournament among all NCAA divisions, the first tournament was a 2,000 seat sellout in Washington, D.C. The CIAA Tournament recorded consecutive sellouts in the 20,000 seat RBC Center, located in Raleigh, NC when the city was awarded the event in 2000 and 2003. The 2011 CIAA Tournament, in its sixth year in the "Queen City", Charlotte, NC, boasted 190,000 fans during the course of the week, while making an economic impact of over $44.3 million. Since the year 2000, the CIAA has generated over $266 million in economic impact for the state of North Carolina and over $16.5 million in overall scholarship dollars for CIAA member institutions.
Tournament Week offers events for every social palate including parties, numerous educational and healthy-living components, step shows, and a battle of the bands. The men's and women's tournaments are held simultaneously and their respective championship games are on Saturday night.
The CIAA has received national recognition by being featured in EBONY magazine for six consecutive years, USA Today (front page cover story), UPTOWN magazine, Sister 2 Sister magazine, VIBE magazine, and Essence magazine. The Tournament has also become an annual staple of the Steve Harvey Morning Show.
The CIAA Tournament is televised into more than 57 million homes nationwide. In 2005, the conference partnered with ESPN, which included coverage on ESPN Classic, ESPN Plus and ESPN In-Game. ESPN reaches over 99.5 million homes.
For the 2010 Tournament, the CIAA entered into a first-ever partnership with TV One, a television network that chronicles African-America culture and achievement, to broadcast the men's quarterfinals and semifinal rounds.
The CIAA is undoubtedly celebrated as a conference of "firsts". Its innate spirit of ingenuity and innovation continues to keep the CIAA in the forefront; blazing trails for other conferences to follow. As the CIAA nears 100 years of excellence in athletic competition, the conference and its member institutions continue to build on the rich and honorable traditions of its past; while providing leadership into the future.