Come see DJ Augustin, Gerald Henderson, Boris Diaw, Rookie Kemba Walker and the rest of your Charlotte Bobcats and new faces take on the best of the NBA at Time Warner Cable Arena. Show your support as they try to reach the playoffs again. Don't forget about all of the great promotional packages the Bobcats offer such as the Flex 4 Pack (Any 4 games from $56) and Sprite Family Nights. GO BOBCATS!! Lots of excited fans here in Charlotte. GO BOBCATS!!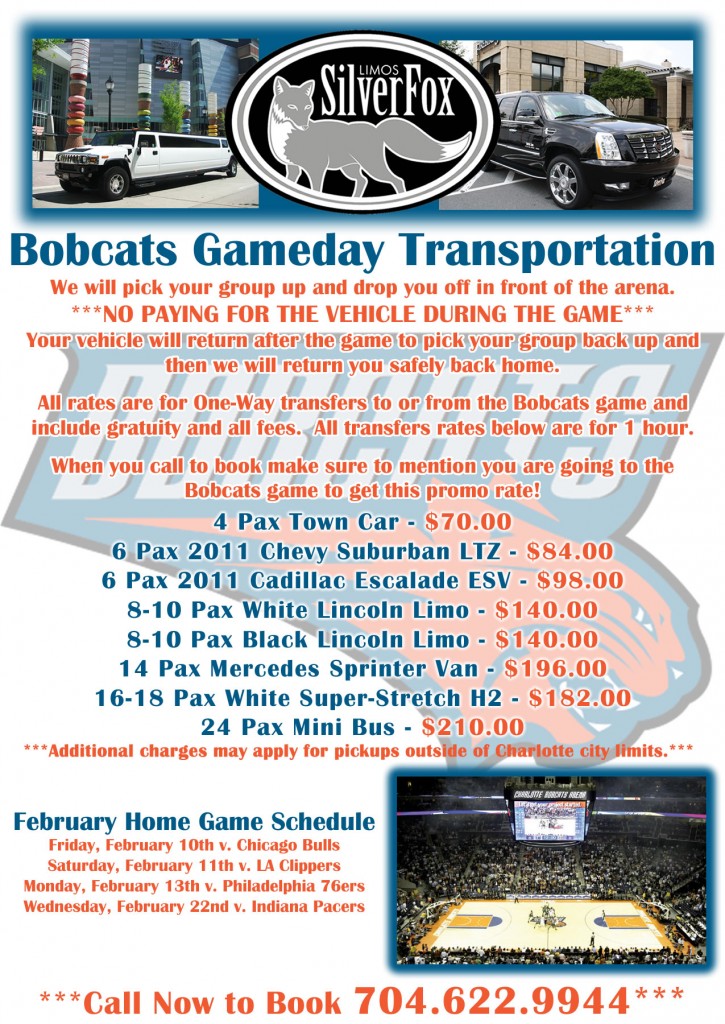 One of the best parts of the games is going to the game.  What better way to go then in style in one of SilverFox Limos beautiful vehicles. SilverFox Limos is the premier Charlotte Limo company. Let us get your group to the game and back home safely. Don't battle the traffic, parking, and mayhem of Bobcats GameDays. Below are our Bobcats Transportation packages.
We will pick your group up and drop you off in front of the area.  NO PAYING FOR THE VEHICLE DURING THE GAME.  Your vehicle will return after the game to pick your group back up and then we will return you safely back home.
All rates are for One-Way transfers to or from the Bobcats game and include gratuity for your driver and all fees.  All transfer rates below are for 1 hour.
when you call to book make sure to mention you are going to the Bobcats game to get this promotional rate!
Bobcats Game Transfer Rates (One-Way)
4 Passenger Town Car – $70.00
6 Passenger 2011 Chevy Suburban LTZ – $84.00
6 Passenger 2011 Cadillac Escalade ESV – $98.00
8-10 Passenger White Lincoln Limo – $140.00
8-10 Passenger Black Lincoln Limo – $140.00
14 Passenger Mercedes Sprinter Van – $196.00
16-18 Passenger White Super-Stretch H2 – $182.00
24 Passenger Mini Bus – $210.00
***Additional charges may apply for pickups outside of Charlotte city limits.***
January Home Game Schedule
Friday, February 10th v. Chicago Bulls
Saturday, February 11th v. LA Clippers
Monday, February 13th v. Philadelphia 76ers
Wednesday, February 22nd v. Indiana Pacers
Call us NOW to book your Bobcats GameDay Transportation  at 704.622.9944