Ringling Bros Circus Transportation
January 30th –  February 2nd at Time Warner Cable Arena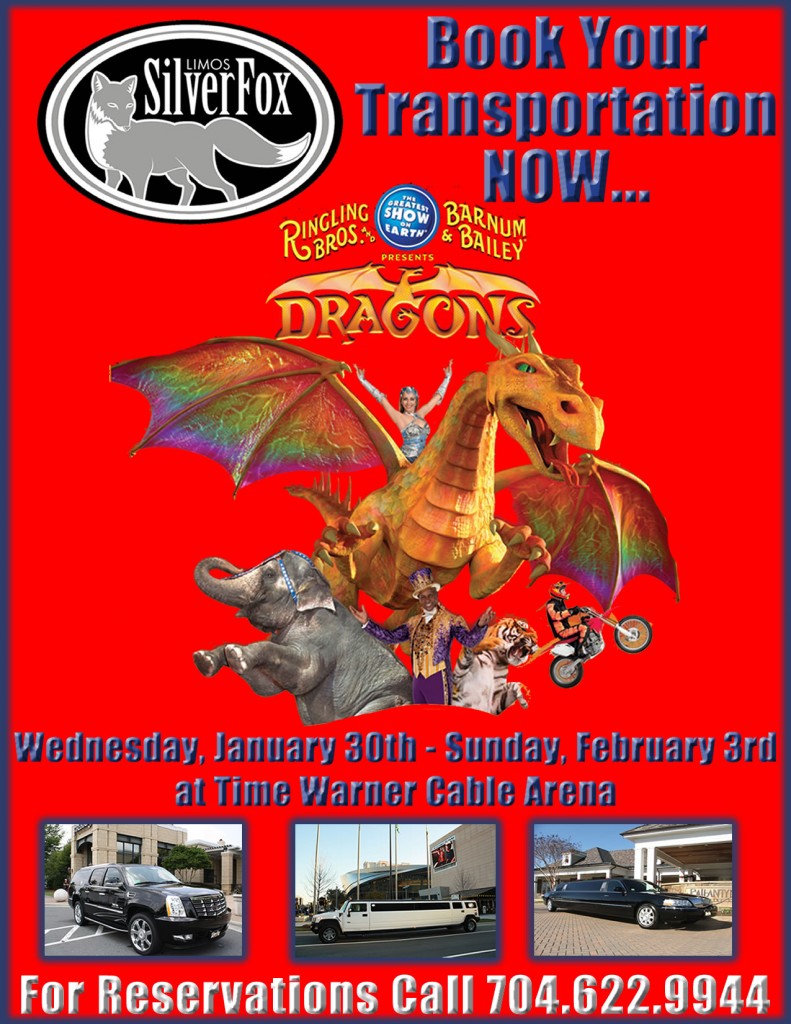 It's that time again for Ringling Bros and Barnum & Bailey Circus to bring their "Greatest Show on Earth" back to Charlotte at Time Warner Cable Arena.  The show will be in town starting on Wednesday, January 30th and going until Sunday, February 2nd.  The circus promises to always be a fun time for the entire family.  Let SilverFox Limos add to the experience with one of our Circus Charlotte Transportation and Circus Charlotte Limo Packages in one of our beautiful vehicles to get your group to and from the show!!  We can accommodate any size group.  We are the premier Circus Limo Charlotte ground transportation provider.
4 HOUR RINGLING BROS CIRCUS CHARLOTTE NC TRANSPORTATION PACKAGES
(we will pick your group up, take you to the circus which lasts approx 2 hours and 15 minutes, and then return you home after)
-4 pass. Town Car – $280.00
-6 pass. 2011 Chevy Suburban LTZ – $336.00
-6 pass. 2011 Cadillac Escalade ESV – $392.00
-8-10 pass. White Lincoln Limo – $448.00
-8-10 pass. Black Lincoln Limo – $448.00
-10 pass. Mercedes Sprinter Limo – $448.00
-14 pass. Mercedes Sprinter Van – $560.00
-16-18 pass. White Hummer Super-Stretch – $700.00
-20-24 pass. Mini Bus – $560.00
-29 pass. Mini Bus – $588.00
-Above prices includes gratuity and all city and fuel fee
-Prices above not valid for the 7:00pm shows on Friday and Saturday nights.  Standard weekend rates will apply.
-Prices above do not include pickups outside of Mecklenburg County.  Please call us for additional pricing.
-Below are all of the show dates and times for this year's Ringling Bros Circus.  If you have not purchased your tickets, make sure you do so now!!  Check below for prices and how to get your tickets!
RINGLING BROS CIRCUS CHARLOTTE SHOW DATES & TIMES:
Wed, Jan 30 7:00PM
Thu, Jan 31 7:00PM
Fri, Feb 1 10:30AM * , 7:00PM
Sat, Feb 2 11:00AM ,  3:00PM ,  7:00PM
Sun, Feb 3 11:00AM ,  3:00PM
* = Educational performance (no preshow)
ONLINE: Click HERE to purchase your tickets.
BY PHONE: Call 1-800-745-3000 to reserve your seats.
GROUP SALES INFO: Call 866-248-8740 or 704-919-0526 .
TICKET PRICES: 
$100.00 (Circus Celebrity Experience)
$75.00 (Front Row)
$45.00 (VIP)
$30.00 (Lower Level)
$25.00 (Lower Level)
$20.00 (Upper Level, Sidelines)
$10.00 (Upper Level, Endzones)
Ringling Bros. and Barnum & Bailey ® is proud to present DRAGONS!
For the first time in circus history, myth and majesty will share the arena during this must-see family event that can only be witnessed at The Greatest Show On Earth®!
Experience circus spectacles so incredible that once again you will believe in the unbelievable! Dragon tribes from the far reaches of the earth are brought together in a single performance, displaying their breathtaking skills in a circus tournament of champions. Each tribe must prove that they have virtues of Courage, Strength, Wisdom and Heart to arouse dragons which appear right before your very eyes! Don't miss this once-in-a-lifetime family event when The Greatest Show On Earth brings the world together… to bring your family together!