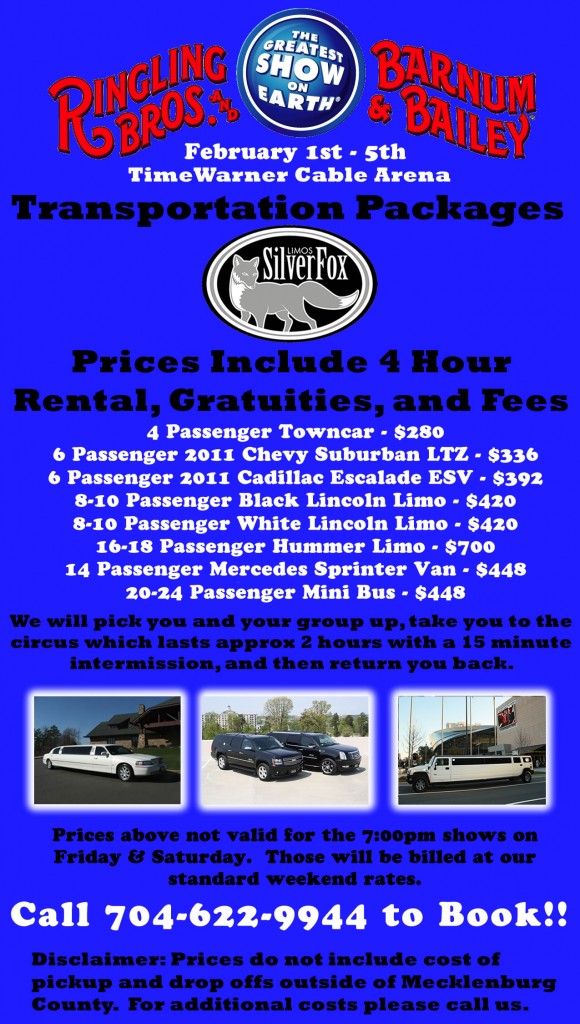 It's that time again for Ringling Bros and Barnum & Bailey to bring their "Greatest Show on Earth" back to Charlotte at Time Warner Cable Arena.  The show will be in town starting on Wednesday, February 1st and going until Sunday, February 5th.  The circus promises to always be a fun time for the entire family.  Let SilverFox Limos add to the experience by booking one of our beautiful vehicles to get your group to and from the show!!  We can accommodate any size group.  We are the premier Limo Charlotte ground transportation provider.
4 HOUR PACKAGES
(we will pick your group up, take you to the circus which lasts approx 2 hours and 15 minutes, and then return you home after)
-4 pass. Town Car – $280.00
-6 pass. 2011 Chevy Suburban LTZ – $336.00
-6 pass. 2011 Cadillac Escalade ESV – $392.00
-8-10 pass. Lincoln Limos – $420.00
-14 pass. Mercedes Sprinter Van – $448.00
-16-18 pass. White Hummer Super-Stretch – $700.00
-20-24 pass. Mini Bus – $448.00
-Above prices includes gratuity and all city and fuel fee
-Prices above not valid for the 7:00pm shows on Friday and Saturday nights.  Standard weekend rates will apply.
-Prices above do not include pickups outside of Mecklenburg County.  Please call us for additional pricing.
-Below are all of the show dates and times for this year's Ringling Bros Circus.  If you have not purchased your tickets, make sure you do so now!!  Check below for prices and how to get your tickets!
SHOW DATES & TIMES:
Wed, Feb 1 – 7:00PM
Thu, Feb 2 – 7:00PM
Fri, Feb 3 – 10:40AM, 7:00PM
Sat, Feb 4 – 11:00AM, 3:00PM, 7:00PM
Sun, Feb 5 – 11:00AM, 3:00PM
ONLINE: Click HERE to purchase your tickets.
BY PHONE: Call 1-800-745-3000 to reserve your seats.
GROUP SALES INFO: Call 866-248-8740 or 704-919-0526.
TICKET PRICES:
$100.00 (Circus Celebrity Experience Seats)
$70.00 (Front Row)
$45.00 (VIP Seats)
$28.00 (Lower Level)
$25.00 (Lower Level)
$19.00 (Upper Level, Sideline)
$10.00 (Super Family Value Seat – Upper Bowl, Endzone)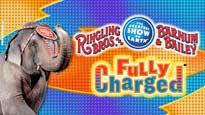 Don't miss Fully ChargedSM, the all-new surge of circus entertainment from Ringling Bros. and Barnum & Bailey® where megawatts of thrills explode off of the arena floor with breathtaking dare-devilry, superhuman stunts and never-before-seen performances that energize Children of All Ages!
The most electrifying edition ever of Ringling Bros.®celebrates performance power that boosts circus-goers excitement. The amazing acts, which can only be seen at The Greatest Show On Earth®, include Tabayara, a dynamic animal trainer whose rare ability to communicate with animals allows him to ride rearing stallions at a fully charged gallop and orchestratemajestic four-ton Asian Elephants in a symphony of dance. When he stands inside a cage, eye to eye with twelve ferocious tigers, Tabayara sees family where others see danger.
The Fearless Fernandez Brothers dial up the thrills as they perform daring feats of athleticism on the Twin Turbines of Steel, including, extreme jumps and twists inside the moving wheels! Audiences will crackle with excitement as they watch Guillermo perform a three hundred sixty degree flying forward somersault, three stories in air, a feat so difficult it has only been attempted by one other person in the 141-year history of Ringling Bros.The Human Fuse, Brian Miser, sets the arena sky ablaze as he rockets through the air from his self-made human crossbow. Don't blink as he flashes across the sky in less than a second, and travels 80 feet at 65 miles per hour.
Ever wonder how many clowns it takes to change a light bulb? The hilarious hoopla continues to flow as the clowns from the world-famous Ringling Bros.®clown-alley, charge-up the audiences' funny bones with hysterical silly antics and clownish comedy.
You can only experience this current of excitement at Ringling Bros. Fully Charged! Get your ticket for high-voltage fun today!