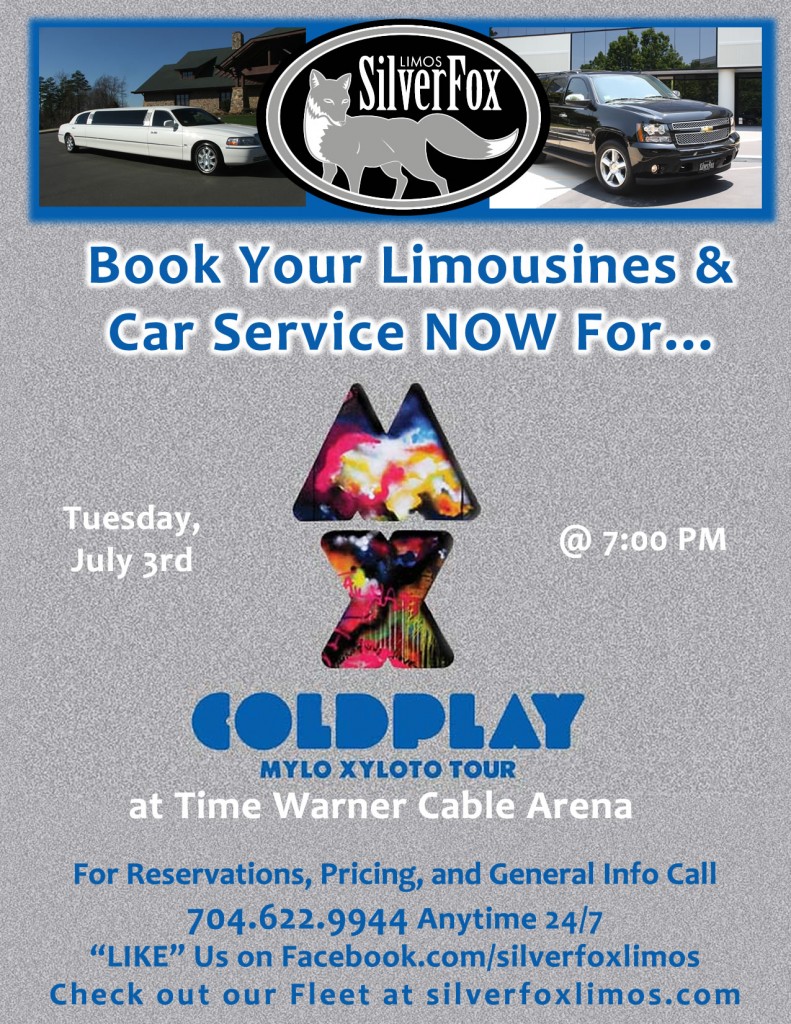 Coldplay in back in Charlotte at Time Warner Cable Arena on Tuesday, July 3rd.  The show starts at 7:00pm. As always, SilverFox Limos is your premiere Concert Transportation provider.  We have the newest fleet in town and the top chauffeurs to go along with them.
We are offering special 4 hour split packages for the Coldplay concert in Charlotte.  We will pick your group up, take you to the concert.  We will then return to pick your group up after the concert and take you home.  No paying for the vehicle during the concert.  You can break the 4 hours up into 2 at the beginning and 2 at the end or 3 in the beginning and 1 at the end, etc.  Do not wait to book your transportation.  The concert is sure to be a sell-out and so will we!
4 Hour Packages
-4 Passenger Lincoln Town Car – $280.00
-6 Passenger 2011 Chevy Suburban LTZ – $336.00
-6 Passenger 2011 Cadillac Escalade ESV – $392.00
-8-10 Passenger White Lincoln Town Car Limo – $448.00
-8-10 Passenger Black Lincoln Town Car Limo – $448.00
-14 Passenger Mercedes Sprinter Van – $504.00
-16-18 Passenger White Super-Stretched H2 – $616.00
-24 Passenger Mini Bus – $504.00
-29 Passenger Mini Bus – $588.00
Call 704.622.9944 to book your Coldplay Concert Charlotte Transportation!!
Prices include driver gratuity, all fees, and taxes.  Additional charges may apply for pickups outside of Charlotte city limits.