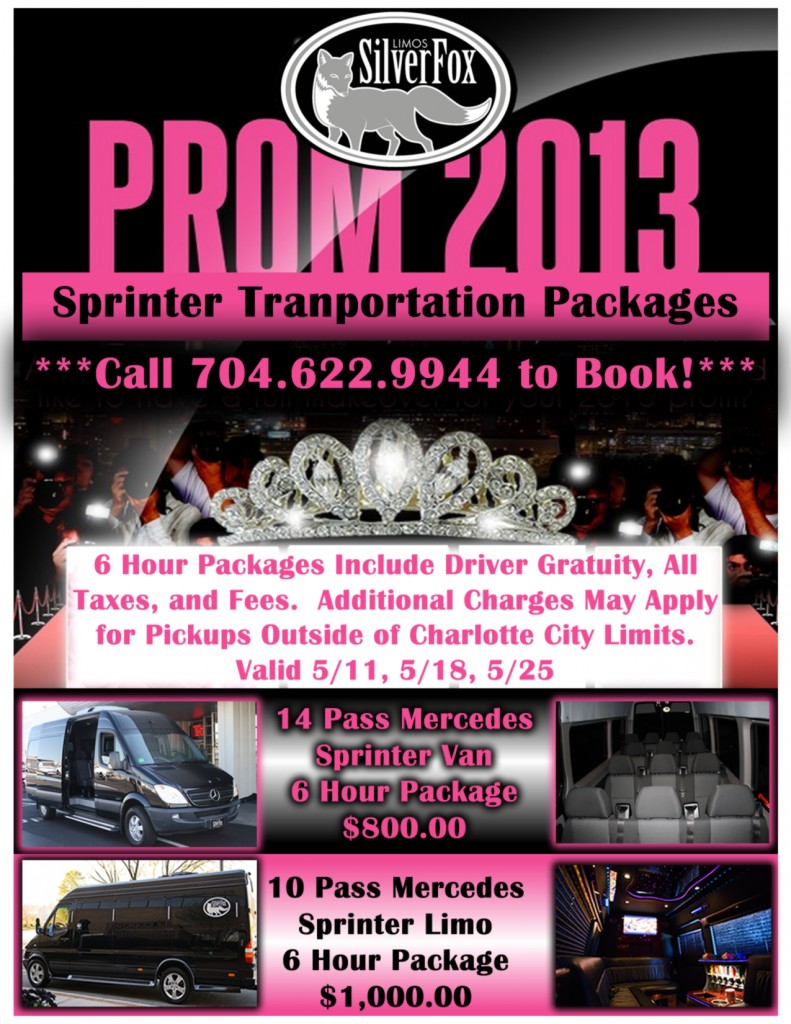 This night promises to be a night to remember always.  This is the first of many special events in your life.  We also know that this event can also be a very stressful one between the girls finding that perfect dress, guys renting your tux, booking your dinner reservations, and everything else that comes along with this night. Let SilverFox Limos handle all of your prom transportation needs and enjoy it in style in one of our beautiful vehicles.
Mercedes Sprinter Prom Packages – 6 Hour Minimum
Saturday, May 11th, Saturday, May 18th, Saturday, May 25th
10 Passenger Mercedes Sprinter Limo – $1,000.00
14 Passenger Mercedes Sprinter Van – $800.00
-All Prom Rates above includes driver gratuity and all fees.
–Deposits – $250 for all Prom Limos except Hummer / $500 for Hummer.  Deposits are non-refundable and due at the time of booking your vehicle.  Half of the remaining balance is due 2 weeks prior to prom date and remaining balance due the day of the prom
–Confirmation – You will be provided with a confirmation email upon making your reservation. We must have a signed confirmation returned back to us for our records either by email or fax.
–Cancellation Policy – Prom Limo deposits are non-refundable.  Any cancellations within 14 days of prom date will be a full charge.  No exceptions!
–Travel – Travel time will be billed at the normal Saturday night rate per hour, (no tip or tax) for any pick up outside of Mecklenburg County.  We use mapquest to estimate travel time from our location (Pineville, NC) to your pick up address.