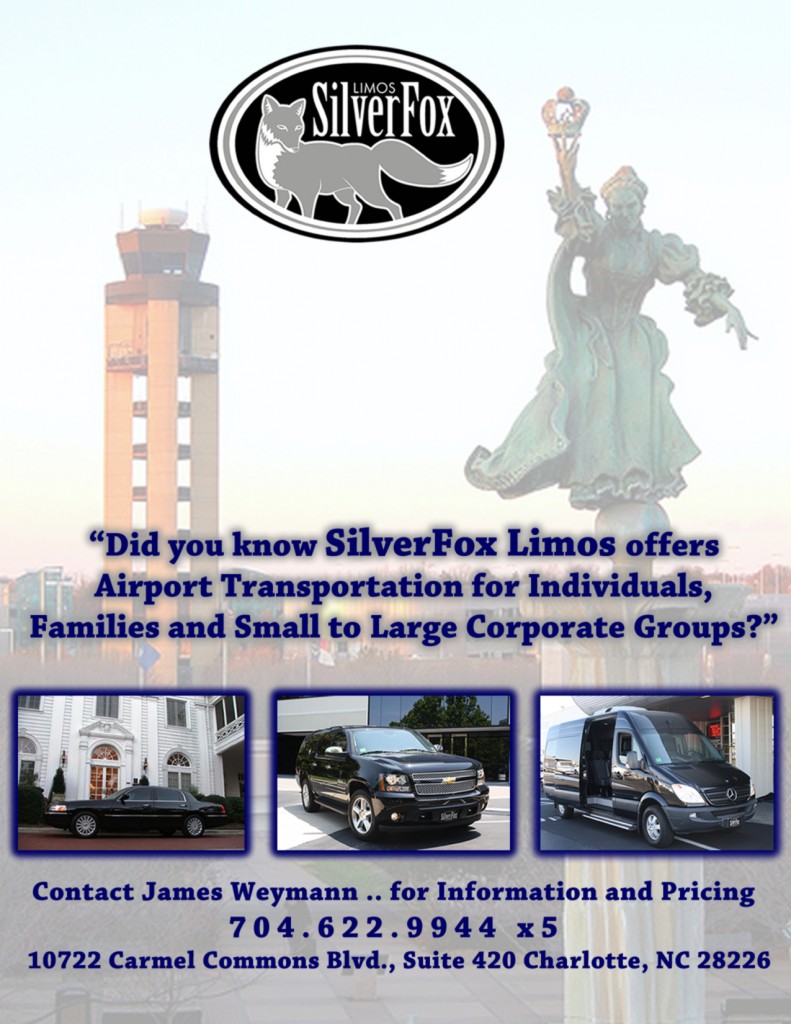 In addition to being the premier Charlotte Limo provider, SilverFox Chauffeured Transportation also offers Airport Transportation for individuals, families and small to large corporate groups.
Airport travelers know that every airport is unique.  Airport travelers also know that flying can be very stressful; from driving to the airport, finding a parking place, carrying your luggage to baggage check, making sure to arrive on time to not miss your flight, then looking for your vehicle when you return.  SilverFox Chauffeured Transportation can assist you with all of these things and help make your Airport Transportation much less stressful.   We offer Airport Transportation that you can depend on to deliver you to the airport on time each and every time.  SilverFox Chauffeured Transportation chauffeurs are trained to maintain intimate familiarity with the layout, logistical details and surrounding traffic patterns of Charlotte Douglass International Airport and other airports they serve.   Additionally, the chauffeur stays in constant cell phone and email contact – eliminating every potential problem associated with getting you to your flight. Save time and work while we drive you to and from the airport.  You do not have to worry about the parking hassles since we take you right to the curb for your departure flight.  Leave the frustration of traffic and waiting behind. You can always rely on us to provide comfortable and reliable transportation.  This Charlotte Airport Transportation is ideal for families going on vacation or parents traveling alone with kids or pets.  Your driver will assist you with loading and unloading your entire luggage.  Yes, we can even make a stop at your favorite coffee shop on the way like Starbucks, Caribou or your local neighborhood stop like Laurel Market.
Finally, upon your return, we will have a professionally dressed driver waiting for you with a printed name sign for you. We'll help you locate and load your luggage and get you straight to the car and no lines when leaving airport through our commercial lane access.
SilverFox Chauffeured Transportation is proud of the Limo Charlotte Transportation service that we offer our clients and we take the same approach with Airport Transportation.  We are able to accommodate any size group.  We also have newest fleet of vehicles in town including Executive Towncars, 2011 Cadillac Escalade ESV and Chevy Suburban LTZ SUVs, Lincoln and Hummer Limos, Mini and Coach Buses.  We also just added the newest vehicle in the livery transportation business, the 14 Passenger Mercedes Sprinter Van.  We are the choice Airport Transportation Charlotte provider for many of Charlotte's top executives, Fortune 500 companies, Celebrities, and Corporate Groups.  Let SilverFox Chauffeured Transportation take care of your next Charlotte Airport Transportation and see for yourself what separates us from the rest!