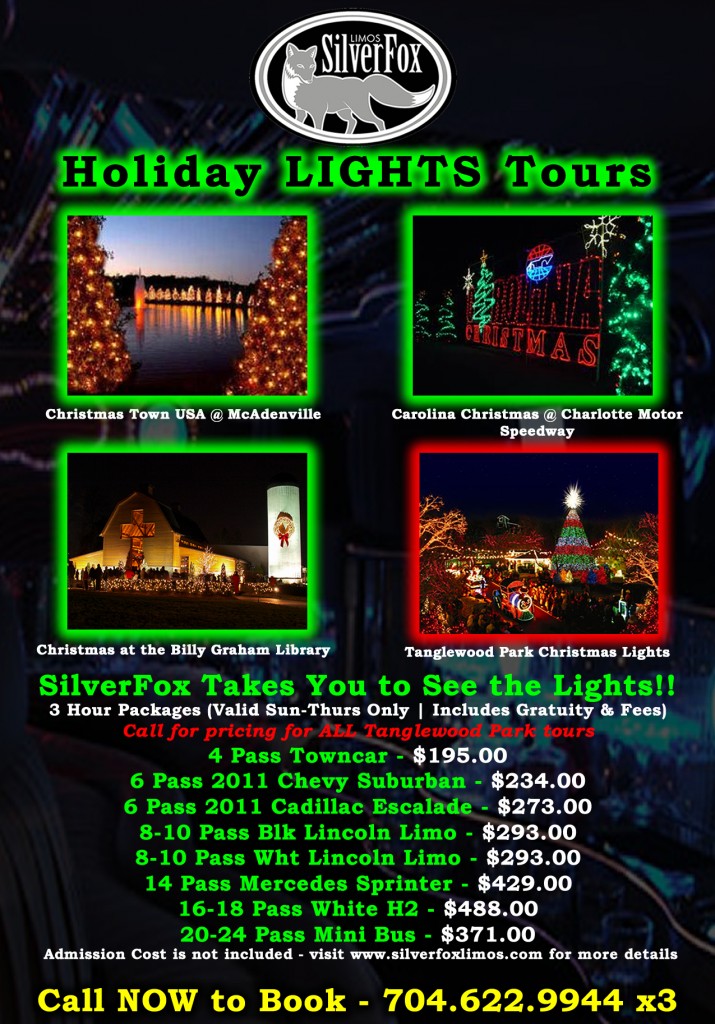 It's that time of the year again.  The weather is getting colder, Christmas decorations are going up, and SilverFox Limos is taking you to see the Lights!!
Every year around this time we are fortunate to have some of the best Christmas Lights Displays in our area.  These places include the Billy Graham Library, Tanglewood Park, McAdenville, NC, and Carolina Christmas at Charlotte Motor Speedway.  A great way to see the lights is in one of SilverFox Limos beautiful vehicles.
We are able to accommodate any size group.  This is perfect for families or groups of friends who want to enjoy the Christmas lights around town, but who don't want to have the hassle of driving and parking.  SilverFox Limos give you the opportunity to enjoy the lights with a group instead of having to take multiple vehicles.  All of our chauffeurs are well experienced and know the best routes to take to get you to your destination.  Holiday Lights tours and our Holiday Lights Packages make a great early Christmas gift.
For Sunday – Thursday we are offering a 3 Hour Package which includes driver tip as well as the STF fees.  The price does not include any applicable admission to see the lights.  For Tanglewood Park please call for rates.
4 Passenger Towncar -$195.00
6 Passenger 2011 Chevy Suburban LTZ – $234.00
6 Passenger 2011 Cadillac Escalade ESV -$273.00
8-10 Passenger Black Lincoln Limo -$293.00
8-10 Passenger White Lincoln Limo -$293.00
14 Passenger Mercedes Sprinter Van -$429.00
16-18 Passenger White Hummer Limo -$488.00
20-24 Passenger Mini Bus – $371.00
Christmas at the Billy Graham Library
December 1 to 23, 2011
Open from 10:30 a.m.–10:00 p.m.
Christmas activities are from 5:00–10:00 p.m.
Admission is Free. Closed on Sundays
Phone: (704) 401-3200
See a live Nativity that offers a glimpse into the awe of that first Christmas night, complete with live animals. (5:00–10:00 p.m.)
Enjoy horse-drawn carriage rides* through one of Charlotte's most beautiful light displays. (5:00–10:00 p.m.)
New this year! Have a beautiful color photo taken in a picturesque carriage. One pose per individual or group. One print: $12. Two prints: $20. Three prints: $27. Photo is 4″ x 6″. It's a great way to capture Christmas memories!
Hear heartwarming sounds of caroling and festive music. (5:00–10:00 p.m.)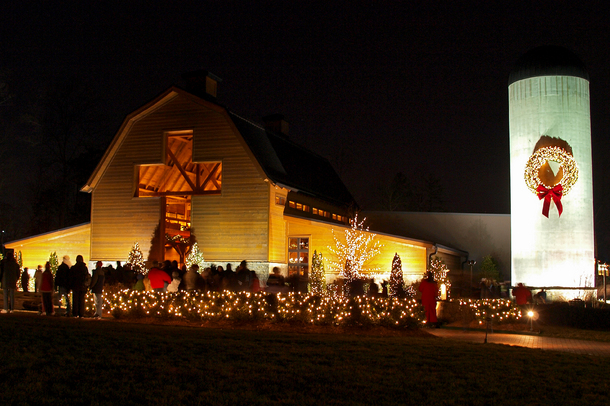 Don't miss the Christmas story time for kids of all ages. (5:00–9:30 p.m.)
Pet the animals! (12:00–2:00 p.m.)
Exclusive Library ornaments in Ruth's Attic, plus unique and meaningful books and gifts for your Christmas shopping. Holiday goodies on sale in the Dairy Bar.
Tours of the Journey of Faith at the Billy Graham Library.
Christmas at the Library was named one of the Top 100 Events in the US by the American Bus Association (ABA).
*Carriage rides: $3 for children 12 and under, $7 for adults.
New December Hours
December 1-23: 10:30am–10:00pm
December 24th: 10:30am–1:00pm
December 26th–30th: 10:30am–5:00pm
December 31st: 10:30am–2:30pm
Closed Thanksgiving, Christmas & New Years
Festival of Lights at Tanglewood Park
Beginning November 19, 2011 through January 1, 2012, Tanglewood's rolling countryside will be transformed into a winter wonderland of giant snowflakes and whimsical scenes! Entering our 20th season, Tanglewood's Festival of Lights continues to be one of the largest and most spectacular light shows in the entire southeast.  This year, we have added more display scenes, as well as change out most of our existing bulbs to brighter LED lights for your enjoyment. We are so excited for you to join us this year in celebration of our 20th anniversary! From storybook scenes to Holiday themes, over one hundred displays and over a million lights fill Tanglewood Park with the entire splendor and joy of the Holiday season.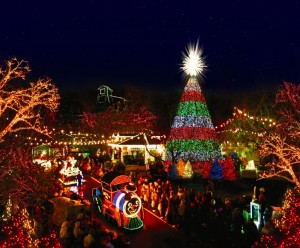 The Festival of Lights is open nightly from 6:00 until 11:00 pm November 19, 2011 through January 1, 2012.  Fridays, Saturdays, and Sundays are very popular nights to visit the lights show. Because of this, long lines should be expected, and wait times sometimes exceed 2 hours. This year, our busiest nights are expected to be: November 25, 26, December 9, 10, 16-24, and 30. Please visit the Festival of Lights Mondays-Thursdays and on the nights not expected to be very busy to avoid extended wait times. Thank you!
Rates – We only accept cash or checks as payment for entrance to the Festival of Lights.
Friday – Sunday and ALL Holidays (including Christmas Eve and New Year's Eve)
-Family – cars, vans and trucks: $15
-Commercial – vans, limos and mini-buses (25 passengers or less): $25
-Motorcoaches and buses: $90

Monday – Thursday (excluding holidays)
-Family – cars, vans and trucks: $10
-Commercial – vans, limos and mini-buses (25 passengers or less): $20
-Motorcoaches and buses: $90
This year to celebrate our 20th anniversary, we are offering special discounted rates on November 21, 22, 28 & 29!
Christmas Town USA – McAdenville, NC
The Lights glow nightly in McAdenville, NC.  This years marks the 56th Annual of Christmas Town USA. The more than 375 trees which were decorated last year range in height from 6 feet to more than 90 feet.  Only live trees are used. The number of  lights on individual trees varies with the height, diameter and fullness of the trees.  As few as 500 lights and as many as 5,000 lights may be used on one tree.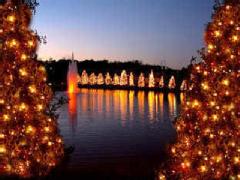 One of the favorite spots for viewers is the lake which is situated near the heart of town.  Here are 33 trees, ranging in size from 12 to 40 feet, which ring the lake.  The reflection of the lights in the water adds to the beauty of the scene.  A fountain, located in the center of the lake, jets water 75 feet into the air.  Lights shining on the fountain go through a sequence of red, green, blue and amber about once every ten seconds.  At the lake, a 46 foot wide lighted image of Old Man Winter blows snowflakes into the air. While much emphasis has been placed on the lighting of trees, this represents only a portion of the effort that goes into the preparation for Christmas.   The town residents play a big part as they decorate their doors in original styles according to their own personal feelings.  This gives a special expression of "Best Wishes for a Merry Christmas" from the townspeople to their visitors.  A life-size nativity scene and life-size figures of carolers, complete with music, add to the effect. More than 200 wreaths adorn lampposts throughout the town.  Santa and his reindeer, a display that is nine feet tall and seventy feet long, are featured as part of the annual tradition.
Times are Monday – Friday from 5:30p to 9:30p and Saturday & Sunday from 5:30p to 11:00p.  From Thursday, December 1st – Monday, December 26th.
Carolina Christmas at Charlotte Motor Speedway
Charlotte Motor Speedway is excited to bring the holidays to life this winter season with the return of Carolina Christmas, a spectacular drive-through Christmas light park and village located at the legendary superspeedway.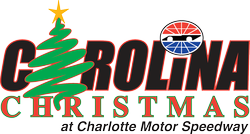 Carolina Christmas is one of the largest holiday light shows in the United States, featuring more than 600 LED light displays boasting 3 million lights. Carolina Christmas also offers a Christmas Village with a realistic Bethlehem-themed village, a Festival of Trees, photos with Santa and areas with food and music.
Carolina Christmas will expand to be bigger and better in 2011. Visitors will love the extended route, reaching nearly 5 miles in length, filled with Christmas lights and displays. Carolina Christmas goers will enter the light park at zMAX Dragway, pass by The Dirt Track at Charlotte and into Charlotte Motor Speedway where a drive on the 1.5-mile superspeedway is part of the holiday fun.
The light show is open 7 days a week, while the Christmas village is open Thursday through Sunday.  Carolina Christmas is a general admissions event with tickets available online and at the gate nightly.  Cars-SUVs (max. 8 people) – $20.00 | Vans (up to 36 people) – $50.00 | Bus (37+ people) – $175.00