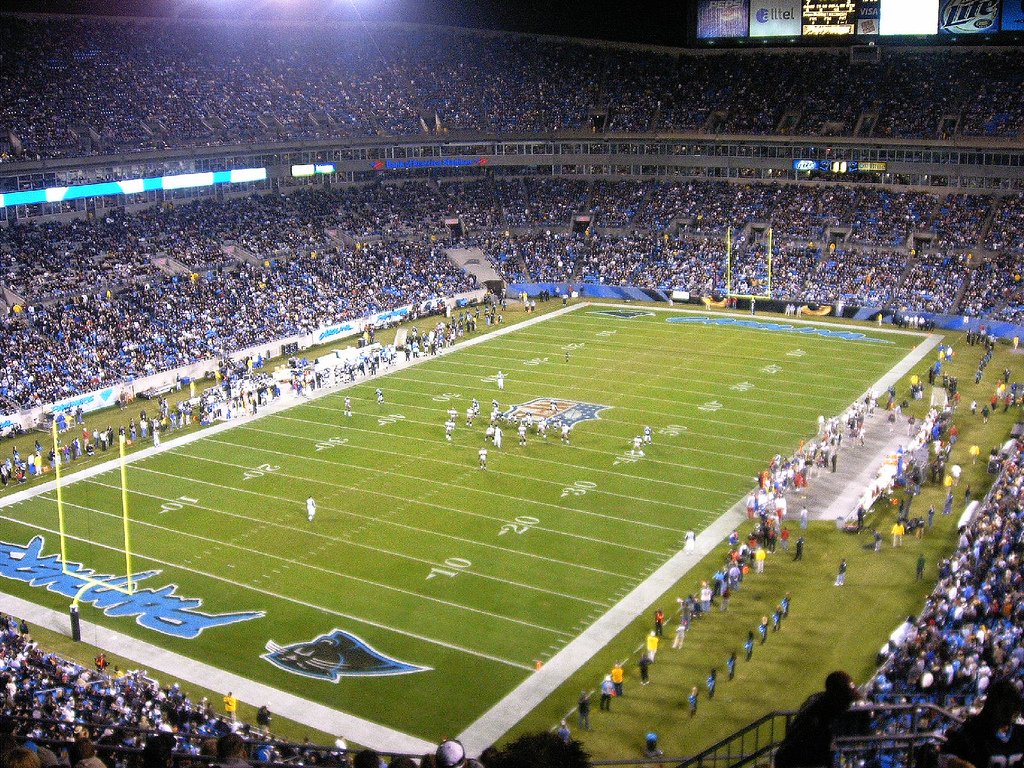 Join your Carolina Panthers as they take on the best teams in the NFL.  This year looks to be a promising one for our Carolina Panthers, led by QB Cam Newton, WR Steve Smith, RB DeAngelo Williams on Offense, LBs Luke Kuechly & Thomas Davis on Defense, and a whole cast of talented new faces. If you can't make it to the game, you can catch it at one of several great sports bars in your area. Find out which locations are showing the game by checking out CLTFun.com's Event Calendar. GO PANTHERS!!!
One of the best parts of the games is going to the game.  What better way to go then in style in one of SilverFox Limos beautiful vehicles. SilverFox Limos is the premier Charlotte Limo company. Let us get your group to the game and back home safely. Don't battle the traffic, parking, and mayhem of Panthers GameDay. Below are our Panthers Transportation packages.
All Panthers Transportation packages include 4 hours, driver gratuity, all fees, and ice in the vehicle.
We will pick your group up.  You will have 2 hours before the game to utilize the vehicle however you wish.  Do some tailgating, grab a bite to eat or stop by your favorite bar for a drink.  (If tailgating make sure your space is large enough to accommodate the vehicle you rent).
We will then drop you off in front of the stadium.  No paying for the vehicles during the game.  You vehicle will return after the game to pick your group back up and you will have the remaining 2 hours to utilize before we return your safely back home.  (Hours may also be split into 3 hours at the beginning and 1 hour after the game and vice versa).
Rates & Panthers Transportation Packages
-4 Passenger Lincoln Town Car – $308.00
-3 Passenger Equus Ultimate – $364.00
-6 Passenger 2011 Chevy Suburban LTZ – $364.00
-6 Passenger 2011 Cadillac Escalade ESV – $420.00
-8-10 Passenger White Lincoln Limo – $476.00
-8-10 Passenger Black Lincoln Limo – $476.00
-12-13 Passenger Mercedes Sprinter Limo – $560.00
-14 Passenger Mercedes Sprinter Van – $504.00
-16-18 Passenger White Super-Stretched H2 – $756.00
-20-24 Passenger Party Bus – $840.00
-24 Passenger Mini Bus – $532.00
-29 Passenger Mini Bus – $616.00
Home Game Schedule
Oct 20 1:00PM VERSUS

Rams

Nov 3 1:00PM VERSUS

Falcons

Nov 18 8:40PM VERSUS

Patriots

Dec 1 1:00PM VERSUS

Buccaneers

Dec 15 4:05PM VERSUS

Jets

Dec 22 1:00PM VERSUS Saints
Call us NOW to book your Panthers GameDay Transportation Package at 704.622.9944!!